The DXE is a commercial semi-automatic pizza dough press, perfect for high production volumes. The DXE has a swing away lower platen for easy loading and unloading. Its heavy duty construction and electric motor driven components make it the top semi-automatic press on the market. It's a fast, safe, simple, and mess free to hand tossing or sheeting your dough. The DXE has upper platen heat with a temperature max of 200 degrees Fahrenheit. Heat aids in dough flow, allowing dough to be pressed straight from a refrigeration unit and helps keep the dough from shrinking back or sticking to the upper platen. The dough press is an easy and affordable way to improve your production time, as well as your finished product. A press keeps the air in the crust, versus sheeted dough where the air is forced out. It creates a product with consistent thickness, versus hand tossed where thicknesses can vary. The DXE has 18" round platens that allows for finished crusts up to 18". The DXE is easy to use, and requires no skilled labor, unlike hand tossing. Set your temperature and press time, the recommended temperature for warm dough is 110 degrees Fahrenheit and for cold dough is 150 degrees Fahrenheit. The recommended time for warm to is 2-4 seconds, for cold dough is 4-8 seconds. Set your thickness with the adjustment knob at the top of the press. The weight of the dough ball and the thickness setting will determine the size of the finished press. Place your preformed dough ball on the lower platen. Simultaneously press dual safety start buttons, the upper platen will lower into lock position and the timer will count down. The alert will sound when set time has elapsed and the upper platen will raise. Remove your crust from the platen and place on screen, disc, or pan. The top of the crust on the pan becomes the bottom. Now, you are ready for makeup and baking. The DXE is made in the USA, and is available in both stainless steel and powder coated white.
The DXE-SS commercial semi-automatic pizza dough press is perfect for high production volumes! See how this product offers a fast, safe, simple, mess-free solution to hand tossing or sheeting your pizza dough.
Related Products

Related Videos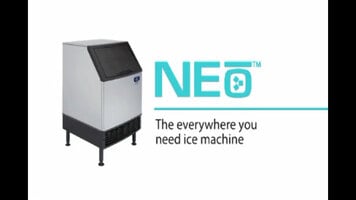 Manitowoc NEO Undercounter Ice Machine
Manitowoc offers a line of NEO undercounter ice machines that are perfect for restaurants, bars, cafes, offices and more! Check out this video to learn more about the features and services they have to offer!
Robot Coupe R-301 Ultra Series D
Robot Coupe's R-301 Ultra Series D is designed to impress! Watch this video to see what kinds of special features lie in store for you when you purchase this highly efficient, time-saving vegetable prep attachment.

LED Light Up Shot Glass
Light up the night with these colorful LED light up shot glasses!