Hey everybody, welcome to the ACP culinary center. I'm Chef Will, this is Chef Tony and today we want to talk about our latest high speed oven, the OnCue. The OnCue features 2400 watts of microwave power, which is both bottom and top feed, now this just makes it a lot more consistent and creates more uniform heating inside the oven, and also makes it 42% faster than the regular convention oven. Now one of the great features of this oven is that it has a pop-up door. As you can see, the door will just pop up by itself, as you'll see here in a second when we cook our first item. Another really cool thing about this oven is how easy it is to clean. When you want to go ahead and clean it, you have a grease tray, like all commercial microwaves, you just take this out, clean it in your sink, and put it back in your oven. And when you want to clean the door, it just lifts up, so you have access to that side of it. So you shut the door, and you're ready to cook. Now we'd like to demonstrate by showing you several different items, and we are going to start off with a breakfast sandwich. Now you'll take this and put it in the oven, and I'm going to press the preprogrammed key for 20 seconds. Now at 20 seconds, you have 120 orders per hour. And also, it's a great application for kiosks or small stores. The oven also features a small footprint which makes it easy to put in any location. It also has a square design so you can put two of these back to back on a 30 inch table and you can have a double sided line working each time. The next item we are going to do for you is mac and cheese, it's just pre-portioned cold going into the oven. So you shut the door, press number 2 and it's off cooking. Now if you noticed, when I shut that door and hit the button it was all one fluid motion, so it saves a little bit of time when you're in the kitchen, so shut the door and hit the button. So it's cooking for 25 seconds, this allows for 103 items per hour, which is really fast throughput, you could have it on your side station in a kitchen where you don't want to have a lot of it hot that you throw away at the end of the day, so you just have little portions that you heat ready to order so it's ready to go from there. So you see that, steam rolling off it, it's hot, ready to go to the table. Next what we are going to do, what would be great for a casual restaurant or again a kiosk, and we are just going to do some pasta. Again, we are just going to put it in the oven, press the pre-programmed key and we are off and cooking. The OnCue features the ability to program 100 different items into the oven, so this just helps you so you don't have to manually enter it every time you want to cook something. You can actually already have these items in the menu in the oven so that all you do is press the button. And again, as you can see your pasta is steaming hot, it is ready to go out to the table to your customers. The last item we want to go ahead and do for you today is a portion of soup. Again this is a bowl of soup, it's already pre-portioned so you put it into the oven, shut the door, hit number 4 for 30 seconds and you're off and cooking. You'll notice with this oven when the door opens, it doesn't go higher than the top of the oven, so it's nice you can stack one oven on top of the other, or you can keep things on top of the oven and they won't be knocked off when the door is opened. Now that 30 seconds allows you to 90 different orders per hour, so it's really quick throughput for a supermarket or deli, somewhere where they don't want to have a lot to throw away at the end of the day. Just 30 seconds to go, it comes out, see the steam rolling off of it, it's hot and ready to go to the table. So there you go, there is four different items just over 2 minutes, all done with the OnCue. Thanks for stopping by.
The unique design of the OnCue oven makes it possible to cook food up to 42% faster than you could in a conventional oven. This video highlights this and other great features like how easy the OnCue is to clean.
Related Videos
Traulsen Blast Chiller Overview
Watch this video to learn how to maximize all the benefits the Traulsen Blast Chiller has to offer! From preprogramming cooking settings for ensuring consistency amongst staff to adding valuable data, this video will provide a detailed overview.
Why Buy Commercial Microwaves
Commercial microwave ovens are designed to be used 50-200 times per day while residential models are only built to be used 3-5 times per day. This is only one of many reasons you should buy a commercial microwave for your foodservice establishment.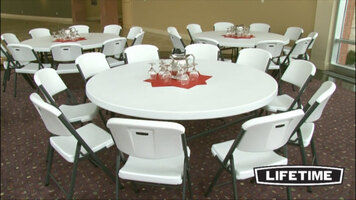 Lifetime 72 Inch Round Folding Table Review
Learn about the features of this LIfetime 72 inch round folding table and what makes it perfect for churches, schools, conferences, and banquets. It is stain resistant, durable, and easy to clean, making it perfect for any event!