The PS30 digital portion scale from Detecto is a compact counter top scale with loads of potential. The NSF Certified, stainless steel PS30 is versatile enough for use in food service portioning, industrial, shipping, plant processing, and general purpose weighing. The compact design of the PS30 model boasts a hefty 30 pound, 15 kilogram capacity. This larger capacity wasn't achieved by trading counter space, as the PS30 has a slim, compact design that leaves plenty of work space on even the tightest of countertops while still maintaining an ample platter. Despite the higher capacity, the scale is sensitive enough to weigh in very small increments, which accommodates the necessity of a perfectly balanced recipe or the precision of measuring corn, wheat, or soy beans in an agricultural application. The digital scale weighs in pounds, ounces, both pounds and ounces, pounds and ounces with fractional one-eight ounce, and kilograms. These selectable units may be preset to display only those desired by the user. The PS30 features five, large, one inch (26 millimeter) high digits and a brilliant, back-lit LCD display that may be toggled on or off. Operation of the scale is simple with only four convenient buttons: hold, tare/backlight, units, and on and off. Auto-zero circuitry ensures that zero is established on the power up routine and is maintained throughout operation. A low battery indicator and automatic shut off with adjustable timing conserve battery power and extend the life of the four AA batteries. By adding the optional batteries, the PS30 has up to 110 hours of continuous use with the backlight off for all mobile weighing tasks, such as farmers markets and road-side stands. An AC adapter is also provided with the scale for more fixed portioning applications. The PS30 scale features an IP65 wash down rating. This rating signifies that the scale is protected dust and low-pressure water, which is perfectly suited for a commercial kitchen where heavy wash down cleaning can be a daily necessity. The ruby, stainless steel, lift-off platform may be easily removed for frequent washing in food and chemical applications where a clean, sanitary surface is required. The PS30 is a great all-purpose scale perfect for any setting where conserving counter space is a must, while still being able to weigh up to 30 pounds. For more information about Detecto's digital portion scales, please call (800)-641-2008 or visit us at www.Detecto.com. Detecto has been "building a better weigh" since 1900.
Accurately weigh foods, ingredients, industrial products, and more with Cardinal's Detecto PS30 digital portion scale! Featuring a back-lit LCD display, easy controls, and an auto-zero function, this scale will precisely weigh items up to 30 pounds.
Related Videos How Portion Scales Can Help You Control Portion Sizes
Save money for your business by learning how to control the sizes of the portions you serve! See how seemingly insignificant mistakes in portion size--such as being off by 1/8 of an oz.--can make a huge difference in your yearly profits.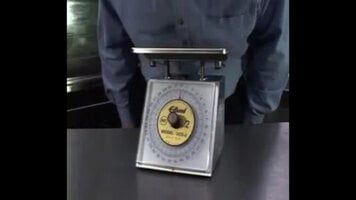 Edlund DCS-2 Mechanical Scale
Built to meet the toughest demands, the Edlund DCS-2 Five Star Series heavy duty portion control scale features all stainless steel construction, making it completely dishwasher safe! Winston Collectramatic: Locating the Serial Number
This video explains how to locate the serial number on your Winston 8000 series Collectramatic fryer. You can find the number in 3 different areas.