All professional chefs and prep cooks know how essential it is to work with sharp knives every day. For speed and efficiency, there's nothing like the smooth feeling of slicing with a factory sharp edge. But in busy kitchens, knife edges dull quickly. You could continue struggling with dull knives while waiting for the knife sharpening service, or you could send them back to the factory right in your own kitchen. Introducing, Edlund's model 401 Electric Knife Sharpener. The 401 helps recreate a factory fresh knife edge from tip to handle. In just seconds, kitchen efficiency is restored as your knives are sharpened to like new condition. The model 401 is a rugged commercial quality electric knife sharpener with an all stainless steel housing designed for years of trouble free use. It is the only electric sharpener certified by the National Sanitation Foundation. We designed the model 401 with input of engineers from the market leader of professional cutlery for the foodservice industry. With it, you can sharpen a wide range of knives from paring knives to cleavers, even scalloped-edged bread knives. A significant feature of the model 401 is its unique guidance module, which can accommodate almost any size knife handle. This allows sharpening of the entire knife edge. The guide simply pops out for easy cleaning and replacing the long lasting grinding wheel. Utilizing an extremely quiet and reliable motor, the lighted rocker switch reminds you that the unit is turned on. Please we installed a safety switch, which prevents the motor from operating with the guide removed.
Learn the ins and outs of the Edlund 401 electric knife sharpener, the only item of its kind to be NSF Listed!
Related Videos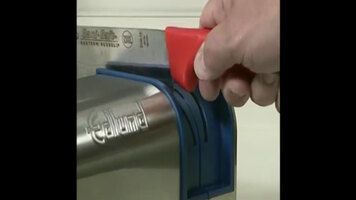 Edlund 401 Electric Knife Sharpener Operation
Make sure you get the most out of your commercial cutlery by caring for them with the Edlund 401 electric knife sharpener!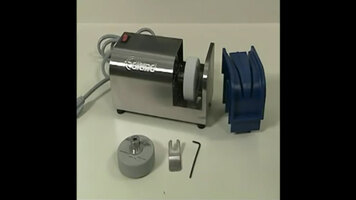 Edlund 401 Electric Knife Sharpener Cleaning and Maintenance
Keeping your Edlund 401 electric knife sharpener in premium working condition is important to maintaining a successful, efficient kitchen! Learn how to clean it and replace worn parts for excellent results with each use.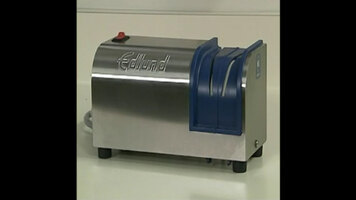 Edlund 401 Electric Knife Sharpener Benefits
Find out how the Edlund 401 electric knife sharpener can help improve your business from financial savings to employee safety!