All professional chefs and prep cooks know how essential it is to work with sharp knives every day. For speed and efficiency there is nothing like the smooth feeling of slicing with a factory sharp edge, but in busy kitchens knife edges dull quickly. You could continue struggling with dull knives while waiting for the knife sharpening service, or you can send them back to the factory right in your own kitchen. Introducing Edlund's precision model 401 Electric Knife Sharpener. The 401 helps recreate a factory fresh knife edge from tip to handle. In just seconds, kitchen efficiency is restored as your knives are sharpened to like new condition. The model 401 is a rugged commercial quality knife sharpener with an all stainless steel housing designed for years of trouble free use. It is the only electric knife sharpener certified by the National Sanitation Foundation. We designed the model 401 with input of engineers from the market leader of professional cutlery for the food service industry. With it, you can sharpen a wide range of knives from peering knives to cleavers, even scalloped edged bread knives. A significant feature of the 401 is its unique guidance module which can accommodate any size knife handle. This allows sharpening of the entire knife edge. The guide simply pops out for easy cleaning and replacing the long lasting grinding wheel. Utilizing an extremely quiet and reliable motor, the lighted rocker switch reminds you the unit is turned on. Plus, we installed a safety switch prevents the motor from operating with the guide removed. Let's find out why thousands of commercial kitchens around the world have chosen Edlund's electric knife sharpener to maintain their knives in house, factory sharp, every day. Our new Edlund model 401 Electric Knife Sharpener is so easy to operate anyone on your staff can learn to sharpen their knives quickly and safely. Your best results will be achieved as you develop a feel for the proper pressure, speed, and consistency while you guide the blade through the sharpening module. To begin sharpening, simply turn on the rocker switch and the sharpener quickly reaches operating speed. Hold the knife firmly in a horizontal position. Place the flat side of the blade against the outer edge of the guide slot, as close to the hilt as possible. Once the cutting edge engages the sharpening wheel, draw the knife along the guide in one smooth and continuous horizontal motion following the curvature of the blade. Repeat this procedure on the opposite side of the sharpening guide. Continue alternating from side to side until the desired edge is achieved. A common question we hear is how hard should I press the knife against the wheel as it turns? The weight of the knife itself has enough downward pressure. If too much force is applied, the pressure sensitive motor will shut down to prevent burning or damaging the blade. Almost any knife can be brought back to a like new edge with the Edlund model 401. Extremely dull knives may require multiple passes on each side to achieve satisfactory results. Once an edge has been restored, just one or two passes of the knife periodically though both guides is all you need to maintain a knife for years. While the chef's knife is the most frequently used knife in a commercial kitchen, the model 401 is equally effective at sharpening virtually any knife used in your operation. Even scalloped steak or bread knives can be sharpened easily by passing just the flat edge side of the knife through the guide system. Like all Edlund products, the model 401 Electric Knife Sharpener is designed for ease of cleaning and maintenance. As a safety precaution, you should always unplug the unit before cleaning. For added protection, a safety interlock switch has been installed to prevent accidental operation when the guidance system has been removed. The rugged easy track guidance system simply pops out and can be run right through the dishwasher. With the guide removed, the inside can be brushed or whipped clean. Edlund recommends cleaning the unit after each sharpening procedure to help keep knives free of wheel grit and sharpening residue. The sharpening wheel has been designed for long life. Although replacement depends on the number of knives and frequency of sharpening, the wheel can be easily replaced by the operator when necessary. Each replacement wheel kit comes complete with a positioning tool, an Allan wrench for mistake proof installation. The Edlund model 401 Electric Knife Sharpener delivers the results that your food service operation demands. Consistently sharp knives, every day. Since 1925, Edlund Company has been a leading equipment manufacture, recognized for developing award winning and innovative products for the global food service industry. From can openers to kitchen equipment to the most complete line of portion and receiving scales, each new product is given a rigorous and extensive real world field testing in commercial kitchens before being introduced to the industry. Food service facilities that field tested the model 401 Electric Knife Sharpener with a program of higher quality purchased knives, reported numerous benefits for their operations, including better overall performance. The staff learned how to maintain their own edges, which resulted in sharper knives, faster production, less waste, improved efficiencies, and more profit. Improved attitudes in the work place. By caring for their knives themselves, the staff developed a sense of ownership and greater respect for the tools. Sanitation improved as well. Field testing showed that prescribed sanitation regiment was more closely followed, again, owing to the sense of ownership and pride taken in consistently sharper, high quality knives. The sharper knives improved safety. Lost days due to injuries or incidents related to cutlery were eliminated. As the staff maintained their own knives, they were constantly aware of their condition. The sharper knives boosted efficiencies in production and time resulting in high product output and less waste. Compared to the cost of using a weekly sharpening service, the initial direct costs of Edlund model 401 Electric Knife Sharpener combined with high quality purchased knives was quickly offset. Payback was realized in as little as six months. In addition, the soft cost savings of this program were tangible. Our customers have realized additional savings in areas such as worker compensation claims, production time, loss prevention, work efficiencies, sanitation control, and product yield. The new model 401 Electric Knife Sharpener, another sharp product from Edlund.
Check out how the Edlund 401 electric knife sharpener recreatesa factory fresh knife edge every time! Also, hear feedback from real chefs on how the Edlund 401 electric knife sharpener improved their business.
Related Videos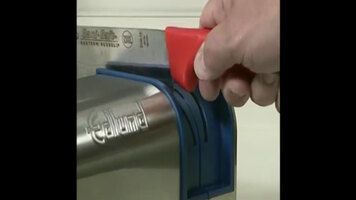 Edlund 401 Electric Knife Sharpener Operation
Make sure you get the most out of your commercial cutlery by caring for them with the Edlund 401 electric knife sharpener!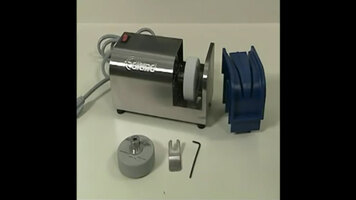 Edlund 401 Electric Knife Sharpener Cleaning and Maintenance
Keeping your Edlund 401 electric knife sharpener in premium working condition is important to maintaining a successful, efficient kitchen! Learn how to clean it and replace worn parts for excellent results with each use.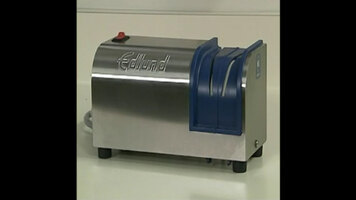 Edlund 401 Electric Knife Sharpener Benefits
Find out how the Edlund 401 electric knife sharpener can help improve your business from financial savings to employee safety!