Like all Edlund products, the model 401 electric knife sharpening is designed for ease of cleaning and maintenance. As a safety precaution, you should always unplug the unit before cleaning. For added protection, a safety interlock switch has been installed to prevent accidental operation when the guidance system has been removed. The rugged easy-track guidance system simply pops out and can be run right through the dishwasher. With the guide removed, the inside can be brushed or wiped clean. Edlund recommends cleaning the unit after each sharpening procedure to help keep knives of wheel grit and sharpening residue. The sharpening wheel has been designed for long life. Although replacement depends on the number of knives and frequency of sharpening, the wheel can be easily replaced by the operator when necessary. Each replacement wheel kit comes complete with a positioning tool and Allen wrench for mistake-proof installation. The Edlund model 401 electric knife sharpener delivers the results that your foodservice operation demands: Consistently sharp knives every day.
Keeping your Edlund 401 electric knife sharpener in premium working condition is important to maintaining a successful, efficient kitchen! Learn how to clean it and replace worn parts for excellent results with each use.
Related Videos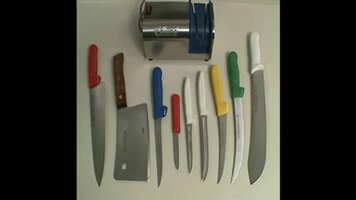 Edlund 401 Electric Knife Sharpener Introduction
Learn the ins and outs of the Edlund 401 electric knife sharpener, the only item of its kind to be NSF Listed!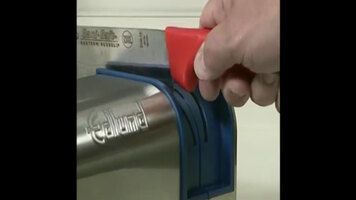 Edlund 401 Electric Knife Sharpener Operation
Make sure you get the most out of your commercial cutlery by caring for them with the Edlund 401 electric knife sharpener!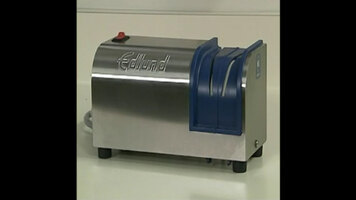 Edlund 401 Electric Knife Sharpener Benefits
Find out how the Edlund 401 electric knife sharpener can help improve your business from financial savings to employee safety!