Our new Edlund model 401 Electric Knife Sharpener is so easy to operate, anyone on your staff can learn to sharpen their knives quickly and safely. Your best results will be achieved as you develop a feel for the proper pressure, speed, and consistency while you guide the blade through the sharpening module. To begin sharpening, simply turn on the rocker switch and the sharpener quickly reaches operating speed. Hold the knife firmly in a horizontal position. Place the flat side of the blade against the outer edge of the guide slot as close to the hilt as possible. Once the cutting edge engages the sharpening wheel draw the knife along the guide in one smooth and continuous horizontal motion following the curvature of the blade. Repeat this procedure on the opposite side of the sharpening guide, continue alternating from side to side until the desired edge is achieved. A common question we hear is, how hard should I press the knife against the wheel as it turns? The weight of the knife itself provides enough downward pressure. If too much force is applied, the pressure-sensitive motor will shut down to prevent burning and damage to the blade. Almost any knife can be brought back to a like-new edge with the Edlund model 401. Extremely dull knives may require multiple passes on each side to achieve satisfactory results, but once an edge has been restored, just one or two passes of the knife periodically through both guides is all you need to maintain your knives for years. While the chef's knife is the most frequently used knife in a commercial kitchen, the model 401 is equally effective at sharpening virtually any knife used in your operation. Even scalloped steak and bread knives can be sharpened easily by passing just the flat-edged side of the knife through the guidance system.
Make sure you get the most out of your commercial cutlery by caring for them with the Edlund 401 electric knife sharpener!
Related Videos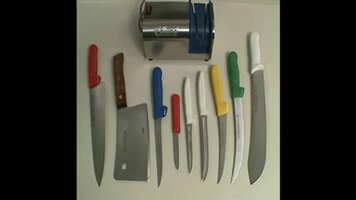 Edlund 401 Electric Knife Sharpener Introduction
Learn the ins and outs of the Edlund 401 electric knife sharpener, the only item of its kind to be NSF Listed!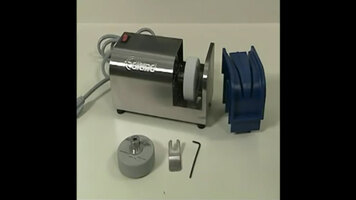 Edlund 401 Electric Knife Sharpener Cleaning and Maintenance
Keeping your Edlund 401 electric knife sharpener in premium working condition is important to maintaining a successful, efficient kitchen! Learn how to clean it and replace worn parts for excellent results with each use.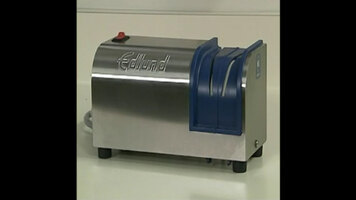 Edlund 401 Electric Knife Sharpener Benefits
Find out how the Edlund 401 electric knife sharpener can help improve your business from financial savings to employee safety!