While commonly used for icing, pastry bags are a versatile tool that can also be used to pipe whipped cream, fill doughnuts, form pastries, and even pipe mashed potatoes! With so many different uses, it is important for you to pick the right pastry bag since not all are created equal in terms of flexibility, strength, or grip. Need to pipe thick dough? Try a canvas pastry bag. Fatty or oily product? Maybe a plastic-coated bag would work the best for you. Read on to learn about the features of each type of pastry bag, and soon decorating your desserts will be a piece of cake!
Glossary
Coupler:

plastic insert that consists of a base and a ring; this is used to hold the pastry tube on the end of a pastry bag

Flower Nail:

metal nail-shaped device used when piping icing flowers; it is rotated between your fingers as you create the flower on the head of the nail (Want to watch how this is done? Click

here

!)
Pastry Bag Type
Benefits
Drawbacks
Disposable

No messy clean up
Sanitary
Easy to see what color icing you are using
Can cut bag to fit all size tips
Saves time
Good for on-site use
Can be used to store icing before cutting tip

May split when using thick icing
Can get expensive if you use them on a daily basis
Less environmentally friendly than reusable bags
Can be slippery

Polyurethane

Lasts a long time
Designed for heavy duty use
Can be washed in the dishwasher
Very flexible
Environmentally friendly

Initial cost is higher
Can be slippery
Can be a hassle if you need to use several colors at once

Canvas

Very strong
Good for piping dough/thick products
Designed for heavy duty use
Withstands heat
Environmentally friendly

Fatty or oily products may leak through
Can be slippery
Can be difficult to clean
Can be a hassle if you need to use several colors at once

Plastic Coated

Secure grip
Easy to clean
Designed for heavy duty use
Environmentally friendly

Doesn't work for hot items
Can be stiff
May leak
Please note: All reusable bags, except canvas bags with seams, can be cut to fit larger tips and couplers. These size categories are based off measurements prior to cutting.
Pastry Tubes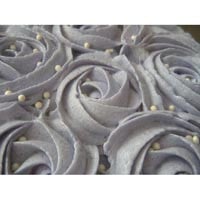 While it's great to have a pastry bag that gives you functionality and convenience, it's also important to have the right pastry tube so you can give your products a dash of originality! Most pastry tubes are made of metal (stainless steel, nickel plated steel, etc.), and are sold either individually or in a set. All pastry tubes are hand-wash only and should be dried immediately after they are washed.
Based on the size and shape of their openings, pastry tubes are classified into different families. Each pastry tube in the family is assigned a number and will produce decorations similar to the others in its family group. For an example of this and to help you decide which type of pastry tube will best suit your needs, take a look at the charts below to see what some of the most common pastry tube designs can be used for.
| Pastry Tube Type | Most Common Uses |
| --- | --- |
| | Outlining details, writing, dots, lattice and lace work, flower centers |
| Leaf Tip | Making plain, ruffled, or stand-up leaves |
| Drop Flower Tip | Making one-squeeze flowers (number of cuts on the tip determines the number of petals on the flower) |
| Ruffle Tip | Creating ribbons, swags, bows, streamers, ruffles, scallops |
| Basketweave Tip | Making woven designs (may be smooth or serrated) |
| | Forming roses, carnations, daisies, pansies |
| Specialty Tip | Creating shell borders, Christmas trees, hearts, ruffles |
| | Forming shells, stars, fleur-de-lis, rosettes, and flowers |
| Multi-opening Tip | Piping clusters of strings, beads, scallops, grass, and hair |
| | Filling pastries |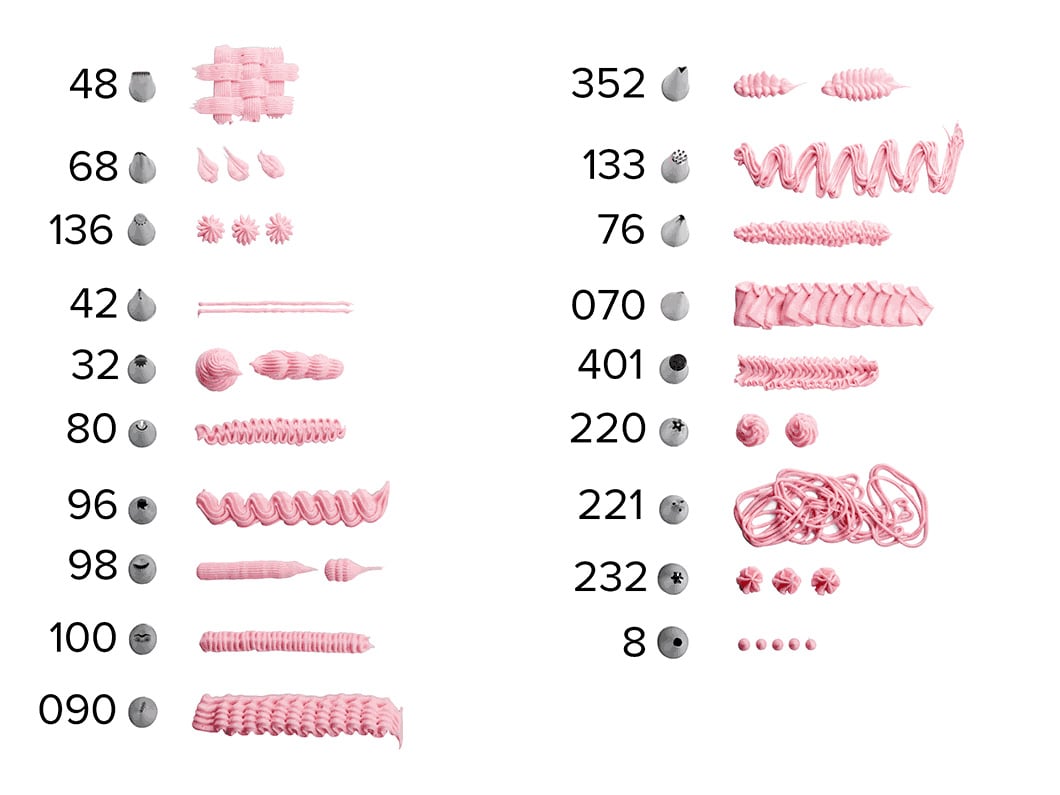 Tips and Tricks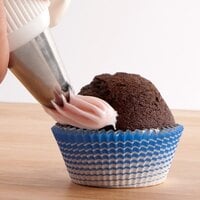 Have only one or two reusable pastry bags, but need to use several colors of icing for one decorating job? Use a frosting plug! Take a sheet of plastic wrap and lay it flat on your counter. Fill it with some icing and then wrap the plastic wrap around the frosting. Spread the frosting out a little and twist both ends of the plastic wrap to close it (so it looks like a sausage). From here, put a coupler into your pastry bag and feed the plug into the bag until the end of the plastic wrap comes out of the coupler. Snip off the plastic wrap at the end of the coupler, add your tip, and screw on the ring. Now when it's time to use a different color of icing, cleanup is a breeze! All you have to do is remove the plastic pouch, wash the coupler and the tip, and you're ready to go. Click here to see a video demonstration of how this is done!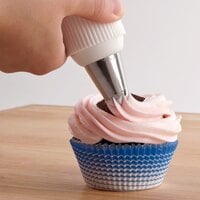 Feel like you need an extra pair of hands to fill your pastry bag? First, insert your decorating tip. Then, place the bag inside a tall cup or glass and fold the excess bag down over the edges of the cup. This way you can spoon frosting into the bag without the extra mess!
Frosting not holding its shape? Certain types of frosting warm up quickly and can look messy. To avoid this, keep your frosting (and the excess frosting that you will use to refill the bag) in the fridge until you're ready to use it.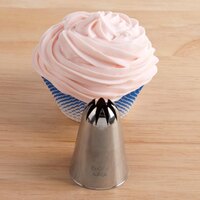 Cleaning difficulties? Some icing bags are dishwasher safe so to clean them, all you need to do in a commercial setting is turn them inside-out and clothespin them to the dishwasher rack (in a residential setting, you would clothespin them to the top rack of your dishwasher). For those that aren't dishwasher safe, turn the pastry bag inside out and wash it with hot, soapy water. Rinse and thoroughly dry the bag, stuff it loosely with paper towels, and allow it to stand up on the counter until it's completely dry.
For more decorating tips, check out our step-by-step blog on how to pipe a rose with buttercream icing.