WebstaurantStore / Food Service Resources / Blog
Choosing and Organizing Your Restaurant Booth Seating
How many times have customers requested to be seated in a booth at your bar or restaurant? Booths are a perennially popular seating option that keep guests comfortable while also bringing them closer together with friends and family. The suggestions below will help you select the right booths for your business, and the accompanying diagram offers suggestions on how you can arrange your dining room to keep guests comfortable and make the most of your space.
Why Choose Booths for Your Restaurant?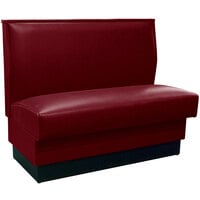 Booths are a great choice for any bar or restaurant for a variety of reasons. They not only enhance your guests' privacy and comfort, but also create less traffic and eliminate the need for servers to walk around all four sides of a table. Similarly, they add a touch of warmth to your front-of-house and are available in a wide variety of colors, styles, and designs.
Also, despite their higher initial cost, in the long run, they actually provide one of the most cost- and space-efficient layouts you can choose for your dining room. For example, a four person booth covers around 3,000 square inches of floor space, while a four person table, base, and four chairs can exceed 5,000 square inches. In this case, choosing a booth provides 30% more revenue and allows you to seat more tables on your busiest money-making nights. Consequently, booth seating will help you save both valuable floor space and your bottom line.
Selecting the Perfect Booths
With the wide variety of dining room booth options available, you are sure to find the perfect combination of colors, designs, and styles for your bar or restaurant. For example, you can choose between single, double, wall bench, 1/2 circle, and 3/4 circle types in many different lengths, widths, and heights.
Additionally, you'll enjoy the ability to select from a variety of welt cord, head roll, top cap, end cap, and outside back configurations. You might also consider pairing a wall bench with small tables, which allows for easy conversation among couples but can be quickly transformed into a larger table for big groups.
Creating an Effective Booth Layout
When designing a booth layout for your restaurant, considering booth dimensions is obviously very important. You should always make sure to factor dining room table sizes into your calculations. A standard layout allows the table edge to align vertically with the outer edge of the booth seat, which allows for a comfortable 16-18" seating depth. Booths paired with 30" wide tables require 72" from the centers of each top cap, while 24" wide tables only require 66".
It is also important to note that when pairing a 24" table with a booth, cantilever table bases are your best bet. These tables are anchored to the wall underneath the table and offer strong support without sacrificing valuable leg room for guests. The diagram above presents a variety of different booth size and spacing combinations to give you an idea of how different configurations might work in your business.
Choosing and organizing the perfect restaurant booths for your dining room is an important aspect of keeping guests satisfied, comfortable, and coming back again and again. Ultimately, booths are space-efficient, cost-effective, and the perfect addition to any foodservice business.