WebstaurantStore / Food Service Resources / Blog
The Inside Scoop: Sweet Potato Ice Cream with Toasted Marshmallows

Picture a batch of cinnamon-sprinkled sweet potatoes infused with homemade, hand-torched marshmallows. Now, imagine these flavors packed into a pint of vanilla ice cream. Sound too heavenly to be true? Think again. This "Flavors from Earth" collection ice cream is a perennial favorite at Jeni's Splendid Ice Creams, a customer here at The WEBstaurant Store. Sticking to only the freshest, in-season ingredients and cream from grass-fed cows, Jeni's has managed to stay grounded amidst skyrocketing success.
We're always excited to learn how businesses use our products. So when we heard that Jeni's used products from our website to create their Sweet Potato With Toasted Marshmallows ice cream described above, our curious taste buds were eager to learn more. Jessica Darkes-Buckley, Procurement Manager at Jeni's, gave us the inside scoop on the origins of their famed flavors (and even shared a behind-the-scenes look into the making of Jeni's frozen sweet potato treat).
Ice Cream Built From the Ground Up
Founded in 2002 by Jeni Britton Bauer, Jeni's earned its humble beginning as "a little tiny shop" in Ohio's North Market, a small Columbus hub for independent merchants. Ten years and ten scoop shops later, you can now find pints of Jeni's products on the shelves of grocery stores spanning from Nashville all the way to Dubai! Their products have been praised by Time, Washington Post, and USA Today.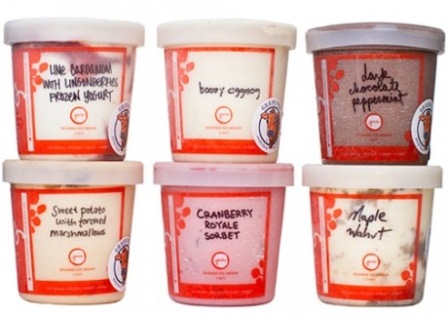 The recipe behind Jeni's acclaimed flavors is simple: Ice Cream Built from the Ground Up. "It's the way we build our flavors," noted Darkes-Buckley. "We rely on our grass raised cream. We try to go as fresh as we can." This entails using only seasonal ingredients obtained from local farmers, and cream sourced from local, grass-fed cows. "I think there's only maybe one thing that's not 100 percent natural," Darkes-Buckley said. Customers can literally taste the difference: "Grass fed cream has flavor and substance; it doesn't just taste like milky water," she said.
Anatomy of a Flavor
When Jeni's says "built from the ground up" they mean it - right down to the made-from-scratch marshmallows in their sweet potato ice cream! A small Research and Development team creates all flavors based on Britton-Bauer's latest inspiration, and "tweak it until it's just right," said Darkes-Buckley. Their menu of 30-plus varieties of ice cream, sorbet, and yogurt is comprised of everything from familiar favorites like Salted Caramel to the unique Brambleberry Crisp, a vanilla-bean cream infusion of berries, black currants, and oven-toasted streusel. Holiday favorites like Cranberry Royale, Boozy Eggnog, and of course, Sweet Potato with Toasted Marshmallows, appear each year for a limited time.
To make their Sweet Potato with Toasted Marshmallows ice cream, Jeni's relies on a few key tools from The WEBstaurant Store. Batches of house-made marshmallows are stored in Carlisle 6 qt. containers to maintain freshness. Bakers then rely on our Tablecraft dough scraper to flip and torch the marshmallows, and wear our reliable Noble Latex Free gloves while handling food products.
The resulting "Flavor from Earth" is nothing short of out-of-this-world. As always, feel free to tell us how you use the WEBstaurantStore.com to operate your restaurant, bakery, or business! Email inquiries to help@customerservice.com.
Posted in:
Interviews
| By Kim O'Brien