WebstaurantStore / Food Service Resources / Blog
How to Plan A Green Summer Wedding
As the green movement continues to gain traction, more and more couples are choosing to plan eco-friendly weddings. Going green with food, flowers, favors, and other eco-friendly wedding supplies can initially seem more difficult or expensive than planning traditional nuptials, but making the extra effort will help the environment while also enhancing your clients' special day. If you'd like to learn how to make the next wedding ceremony and reception you cater or plan more eco-friendly, check out the ideas, tips, and suggested green products below.
How to Choose a Green Wedding Location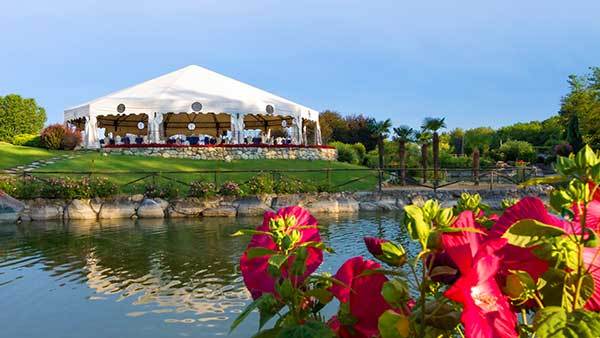 When it comes to summer weddings, you should always encourage your clients to hold their ceremony and reception outside. If they're set on having their wedding indoors, though, always try to guide them towards an eco-friendly venue. Here are a few ways to go green with location:
| | |
| --- | --- |
| Reduce | Reuse |
| 1. Outdoor venues use less electricity, as the sun is the only source of light they'll need. | 1. Reuse space by having the ceremony and reception in the same place. |
| 2. If your clients go with an indoor wedding, they should choose a venue with plenty of natural light to save on electricity. | 2. They might also rent a tent or use an existing pavilion to maximize reuse potential. |
| 3. Use as many local vendors as possible to reduce gas emissions (this also keeps foods fresher longer). | 3. Choosing an outdoor space cuts down on the need to purchase decor that might not be eco-friendly. |
Choosing Eco-Friendly Paper Products for Your Green Wedding
Paper products are generally used for programs, menus, escort cards, and invitations at weddings. Choosing eco-friendly recycled paper products and cutting down on the amount of paper your clients' use in the first place is sure to make a wedding more green. Here are a few ways to reduce paper waste:
| | | |
| --- | --- | --- |
| Reduce | Reuse | Recycle |
| 1. Use one menu per table and display it using a reusable table tent or write-on chalkboard | 1. Use bamboo signs for your program and set up one or two at the entrance. | 1. Encourage your clients to choose recycled paper for their green wedding invitations and any other paper products they decide to use. |
| 2. Replace traditional paper and envelope invitations with postcards, which use less paper. | 2. Design creative escort "cards" that double as wedding favors (i.e. seed packets with guests' names on them). | 2. Encourage the happy couple to ask their invitation printer to use all-natural inks made of eco-friendly materials. |
Choose Locally Grown and Organic Food for Your Green Wedding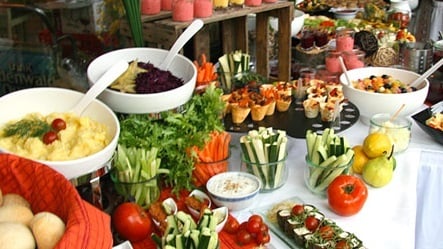 Since your clients will be holding their green wedding over the summer, you should have no trouble finding locally-sourced, delicious, and nutritious produce. Buying local supports area farmers, while also reducing refrigeration costs and delivering fresher, more delicious foods. For more tips on going green when it comes to food, check out the table below:
| | | |
| --- | --- | --- |
| Reduce | Reuse | Recycle |
| 1. Choose to serve food buffet-style with disposable wooden flatware, which reduces waste by allowing guests to choose the exact portions they want. | 1. Pack up any leftovers and give it to guests to take home with them (leftover cake could be your wedding favors). | 1. Donate leftover food to a local food bank or homeless shelter. |
Eco-Friendly Wedding Favors
While your clients might agonize for hours over choosing the perfect wedding favors, chances are that most guests will end up discarding their favor shortly after the ceremony. While favors aren't a must at weddings anymore, encourage the bride and groom to take the following factors into consideration if they do elect to give favors:
| | | |
| --- | --- | --- |
| Reduce | Reuse | Recycle |
| 1. Suggest they skip giving favors in the first place, as guests are usually more concerned with having a good time and celebrating the happy couple. | 1. Offer guests leftovers in environmentally-friendly reusable takeout containers, which can double as creative and delicious green wedding favors. | 1. Encourage your customers to look for recycled jars at flea markets and mark them with their initials and wedding date. |
Use Locally-Grown Flowers to Decorate at Your Wedding
Clients can also make their wedding more green by using locally-grown flowers from farms and greenhouses in their area. Encourage them to use uncommon flowers and greens in their decorations, bouquets, and favors, as these plants might be less expensive and more sustainable. Keep reading for more information on choosing green and sustainable flowers:
| | | |
| --- | --- | --- |
| Reduce | Reuse | Recycle |
| 1. Use silk flowers to avoid cutting fresh ones (you can sell or rent them to other couples, too). | 1. Reuse bouquets and flowers from the ceremony as centerpieces at the reception. | 1. Choose recycled paper flowers, which are cheaper than real flowers and perfect for artistic couples. |
Go Green with Eco-Conscious Decorations and Table Settings
Outdoor weddings feature built-in light and decor, but there are still a number of factors to consider when going green in terms of wedding decorations and table settings. Check out the table below to learn more:
| | |
| --- | --- |
| Reduce | Reuse |
| 1. Use LED lights to create a dramatic look without using a lot of electricity. | 1. Use products made of recycled materials whenever possible, including paper, plastic, metals, and glass. |
| 2. Choose repurposed dishes, plates, and bowls, all of which reduce money spent on dinnerware and flatware. | 2. Choose recycled paper pom poms and confetti to catch your guests' eyes and create a festive mood. |
Whether your clients are die-hard environmental activists or eco-friendly amateurs, creating and executing a green wedding will help them save the planet while also enjoying their special day. From favors to food and everything in between, these tips, tricks, and products will help you and the happy couple feel great about one of the most exciting days of their life.

Posted in:
Catering Tips
|
Eco-Friendly Tips
| By Nora Fulmer