WebstaurantStore / Food Service Resources / Blog
How to Prepare Your Restaurant for the Holiday Rush
It's the start of the most wonderful time of the year, which means that shoppers are beginning to flood malls, boutiques, and other stores for their holiday shopping. In between going from store to store, these shoppers develop a hunger that will have them scrambling to your restaurant or cafe. But are you prepared for this holiday rush? If not, don't worry. Below are some tips you can follow to get your business ready!
Hire Seasonal Help
Whether it's a food runner, a busser, or an extra cook, making sure you have a full staff is key during this time. Before hiring your seasonal staff, it's important to look back on years past to figure out what your problem areas were. Did you have long ticket times? Did it take a while for servers to run food? Pinpointing areas that need improvement will help you decide where your establishment could benefit from an extra staff member.
Get Your Staff Ready
Both front- and back-of-house employees will determine the success of your restaurant during these hectic months, so it's important that they're ready for the changes that the holiday season brings. About a week or two before your busier months begin, have a talk with your staff about what is expected from them during this time. Whether it's longer hours or additional responsibilities, informing them about upcoming adjustments before the rush begins can help them mentally prepare for what's to come.
Since this time of year does bring in bigger crowds, it's also important to discuss with your front-of-house employees how they can quickly turn tables. Not only will this give them a chance to make more money, but it will create shorter wait times for your customers. Pass on some of these tips to your servers to help them turn tables faster:
Pre-bus tables with bus bins and boxes.
Suggest dishes and special menu offers when guests first sit down.
Give guests their bill as soon as they're done eating, but be sure to tell them that there's no rush.
Provide Alternative Ordering Options
After a long day of shopping, some guests may just want to order your food to-go. If you don't already offer take-out options, the holiday season is a great time to start. Using services like NetWaiter can help you to set up an online and mobile ordering system for your business. While taking orders via the phone can add a more personal touch, employees can often misunderstand guests, causing them to place the wrong order. Online and mobile ordering creates fewer errors since guests are selecting and verifying their orders themselves. It also gives employees time for other tasks rather than spending it on the phone. Since this ordering method is more convenient for guests, their orders are likely to be as much as 20% larger than phone orders.
Keep Inventory Stocked
When you go out to eat, there's nothing more disappointing than hearing the words, "Sorry, we've run out of that." While guests may understand, it will still leave them with a bad impression of your establishment. If you've stayed on top of your records from years past, you should be able to predict what your more popular dishes are, allowing you to stock ingredients accordingly.
Promote Your Seasonal Offerings
Are you staying open on Thanksgiving or other major holidays? If so, make sure customers know about it ahead of time. This way you can take reservations in advance and have your front- and back-of-house prepared for larger parties. Does your restaurant offer party platter versions of your entrees and appetizers? Advertise early to secure advance orders, and give yourself plenty of time to stock up on ingredients and supplies like appetizer and catering trays.
Stay Positive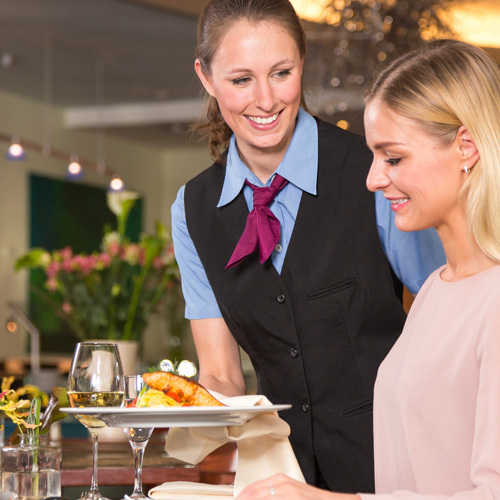 With all the stress the holiday rush brings, like long waits and impatient customers, it can be easy for you and your employees to get stressed out. Keeping morale up in your restaurant is one of the best ways to keep stress levels low. If you're expecting an especially busy shift, provide your employees with energy drinks, juices, and snacks to keep them fueled and happy all day long. This shows them that you understand how tiring this time of year can be, and that you care about their needs.
By getting ready for the holiday rush, new and returning guests will be left with a positive impression of your establishment that will have them returning soon. So, instead of letting the holiday season be the most stressful time of the year, try some of these tips to make it a little more wonderful.

Posted in:
Holidays
|
Management & Operation
| By Emily Hepner