Richard: Welcome to Vollrath University, Vollrath's education center for the food service industry. My name is Richard Rupp and today I have with me, John Wojcik, the director of equipment marketing here at Vollrath. Today we're going to talk about induction cooking, and we have two models that John will talk to you a little about the features and benefits, and a little later we'll show you some uses for these two models. John: Hello. Today we'll be talking about new products from Vollrath, the new Mirage Pro and the new Mirage Cadet. At Vollrath we feature in-house design, in-house development, and in-house manufacturing, which ensures the highest quality products in the induction industry. In addition, we partner with top customers, top chefs, and top culinary schools to put together the proper specs to make this a practical food service piece of equipment. Let me tell you about the new Mirage Pro. The new Mirage Pro features the new G4 engine. The G4 engine has four IGBTs or four switches which gives it incredible temperature control and incredible durability, so durable that there's a two year warranty on this product. The way that the unit works is you turn the unit on. The display will say, add pan. So you would add an induction-ready pan to it, it'll sense the pan and then you'll actually see a value. This value is the temperature which is 80 degrees Fahrenheit. We've increased the range to the lower range of 80 degrees for tempering chocolate or for actually keeping chocolate warm. It also has a timer that you can actually very quickly turn the temperature up or down, a rotary timer with indents so that it actually is a very high quality feel and it's easy to turn quickly. When you take the pan off, it'll say, add pan again. A unique new feature to this is if you have a non-induction ready pan, which is an aluminum pan, place the pan on the unit and it'll immediately say, bad pan, indicating that this is not an induction-ready unit. So some nice new features for the new Mirage Pro, including the new G4 engine with a two year warranty. Now let's talk about the new Mirage Cadet. The Mirage Cadet has a new G1 engine, which has one IGBT. It's a more limited feature item than the Mirage Pro. You actually have, if you turn the unit on, you have 20 settings versus 100. You don't have a rotary knob. You basically have up, down, push button control. So this is going to be used for more limited menu items, like an omelet station. Something that doesn't require all the cooking techniques of the Mirage Pro.
This video will help you learn the main differences between Vollrath's Mirage Pro and Mirage Cadet induction cookers. Basic functions and features are also covered.
Related Videos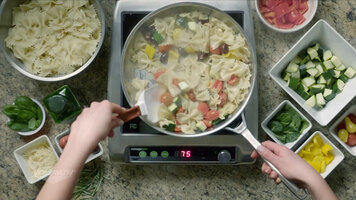 Vollrath Induction Cook Anywhere
Vollrath induction technology allows you to cook wherever you want, whenever you want! Discover the freedom of induction cooking by watching this video.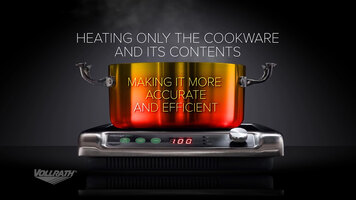 Vollrath Induction Technology
Watch this quick video to learn how Vollrath's induction technology works! An electric current creates magnetic fields that heat up the cookware, making it efficient and precise.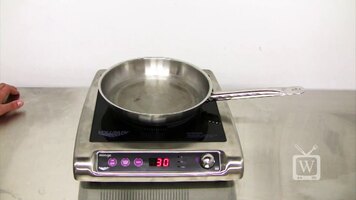 Induction Ranges
Explore the benefits of induction cooking, such as enhanced safety and increased efficiency! Also, learn what kind of pan to use with your induction range. From countertop ranges to a drop in units, we have the right induction range for you!