The DXM is a commercial manual pizza dough press, perfect for low to medium production volume! The DXM has a swing away lower platen for easy loading and unloading. Its heavy duty construction and cam over lock make it the top manual press on the market. It is a fast, safe, simple, mess-free alternative to hand tossing or sheeting your pizza dough. The DXM has upper platen heat with a temperature maximum of 200 degrees Fahrenheit. Heat aids in dough flow, allowing dough to be pressed straight from a refrigeration unit, and helps keep dough from shrinking back or sticking or sticking to the upper platen. The dough press is an easy and affordable way to improve your production time as well as your finished product. A press keeps the air in the press, versus sheeted dough which is forced out. It creates a product with consistent thickness, versus hand tossed where thicknesses can vary. The DXM has 18" round platens that allow for finished crusts up to 18". The DXM is easy to use and requires no skilled labor, unlike hand tossing. Set your temperature and press time; recommended temperature for warm dough is 110 degrees Fahrenheit and cold dough is 150 degrees Fahrenheit. Recommended time for warm dough is 2 to 4 seconds, and cold dough is 4 to 8 seconds. Set your thickness with the adjustment knob at the top of the press. The weight of the dough ball and thickness setting will determine the size of the finished press. Place your preformed dough ball on the lower platen. Pull the handle down until it locks into position. The timer will count down and the alert will sound when the set time has elapsed. Release the handle. Remove your crust from the platen and place on screen, disc or pan. The top of the crust on the pan becomes the bottom. Now, you are ready for makeup and baking. The DXM is made in the USA and is available in both stainless steel and powder coated white.
The DXM-SS is a commercial manual pizza dough press perfect for low to medium production volume! It is a fast, safe, simple, mess-free alternative to hand tossing or sheeting your pizza dough.
Related Videos
How to Sanitize Your Spaceman Ice Cream Machine
Check out this short video for the details and procedures of cleaning your Spaceman Ice Cream Machine!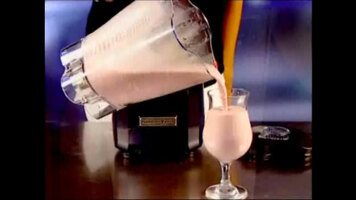 Hamilton Beach Tempest Blender Demonstration
See the power of the Hamilton Beach Tempest Blender in action! This unit's 3 horsepower motor and all metal coupling give it the muscle to power through even the most solid frozen ingredients, giving you a smooth product every time.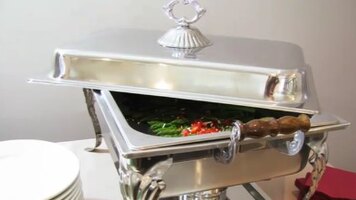 Classic Chafers
Our popular classic chafers give you a classic upgrade to a standard economy chafer. The ornate handles on these classic chafers really set them apart from standard economy chafers, and they even come with fuel cell holders and food pans included!