The DXA pizza presses are air automatic presses. It's available in stainless steel or appliance white finishes. It will press pizza dough up to 18" in diameter. The DXA features digital time and temperature controls, a full range thickness adjustment, an illuminated power on button, two safety start buttons, emergency stop button, heated upper platen and a swing out lower platen. Optional Teflon coating can be applied to both platens. In the back of the DXA, there is a quick connect air fitting compressor and 3 quick connect lube fittings for simple maintenance. We ensure quality and safety through NSF and ETL certifications. The DXA is easy to operate, set your temperature by pushing the menu button once, until the light next to temp is on. Use the arrow keys to select the desired temperature. The heat indicating light will blink while heating up, then stops once the set temperature is reached. Press the menu button once more until the light next to time is on. Use the arrow keys to select the time required. Press the menu button one final time and the setting are entered into the memory. Now set your dough thickness by turning the knob on top clockwise for thicker dough, and counter-clockwise for thinner dough. Swing out the lower platen to apply a small amount of food oil or spray. Place your fresh or thawed dough ball in the middle of the platen and apply a small amount of food oil or spray on top of it. If your dough ball has been proofed in oil and has a coating, you do not need to apply any extra oil. Swing the lower platen all the way back, place fingers on start buttons on both sides of the press. Push in the buttons until the platen is engaged and then release. The timer will automatically start counting down. Once the set time is elapsed, the upper platen will automatically raise, and the timer will reset. Swing out the lower platen, move your dough, place it on your pan, add toppings then bake. Nothing is simpler than the dough express DXA-SS automatic pizza press. Now that's the start of a great pizza!
a look at the DXA-SS automatic pizza dough press from DoughXpress
Related Products


Related Videos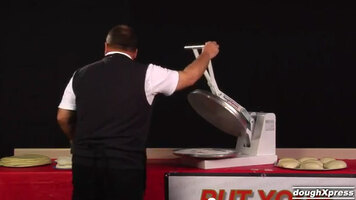 DoughXpress: DM-18NH Manual Cold Pizza Dough Press
The DM-18NH no heat clam shell manual pizza dough press is perfect for low to medium volume production and any budget! This product will cut down on your production time by eliminating the need to toss dough by hand.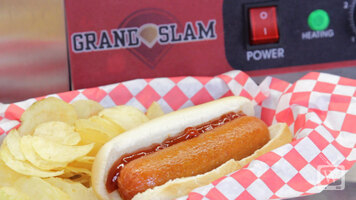 Grand Slam Hot Dog Roller Grill
Learn why the Grand Slam HDRG12 hot dog roller grill is the perfect fit for your business! Learn How to Make Funnel Cake Swirls
Gold Medal puts a twist on a classic carnival favorite with this funnel cake swirls mold! Learn how to make this sweet treat on-a-stick to keep patrons coming back for more!