The D-TXE-2-18 is a commercial semi-automatic pizza dough press, perfect for high production volumes. The D-TXE-2-18 has a swing away lower platen for easy loading and unloading. Its heavy duty construction and electric motor driven components make it the top semi-automatic press on the market. The D-TXE-2-18 has upper and lower heated platens with a temperature maximum of 450 degrees Fahrenheit, heat speeds up the production times, enables pressing thinner products, aids dough flow, and allows dough to be pressed straight from the refrigeration unit. It is fast, safe, simple and mess free. The D-TXE-2-18 has 18" platens that allow for pressing multiples at once, or one up to 18" in diameter. The D-TXE-2-18 is great for flour or corn tortillas and flatbreads, thin or thick pizza crusts. The D-TXE-2-18 is easy to use and requires no skilled labor. Set your temperature and time. The recommended temperature is 250 degrees – 350 degrees Fahrenheit. Our baking time is dependent on thickness of crust and percent of our baked desire. Set your thickness with our adjustment knob at the back of the press. The weight of the dough ball and the thickness setting will determine the size of the finished product. Place your pre-formed dough ball or balls on the lower platen. Simultaneously press the dual safety start buttons. The upper platen will lower into a lock position and the timer will count down. The alert will sound when the set time has elapsed and the upper platen will open. Remove your crust from the platen and place on screen, disc or pan. Now you are ready for makeup and baking. The D-TXE-2-18 is made in the USA and is available in both stainless steel and powder coated white.
a look at the D-TXE-2-18 dual heat round electromechanical tortilla press from DoughXpress
Related Videos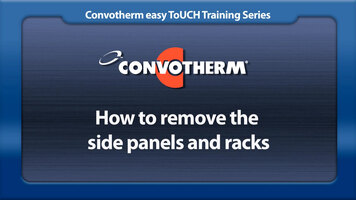 Cleveland Convotherm: Removing the Side Panels and Racks
Easily remove the side panels and racks from your Cleveland Convotherm oven by watching this helpful tutorial.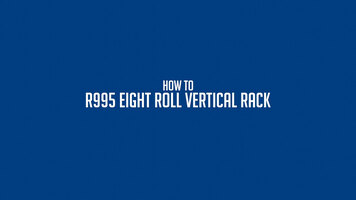 Bulman R995 Vertical Paper Rack
Set up your Bulman R995 vertical paper rack by following these simple steps!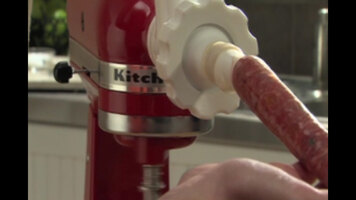 KitchenAid Stand Mixer Sausage Stuffer Attachment
This video gives you a look at the sausage stuffer attachment for KitchenAid stand mixers - a great and easy way to make fresh, tasty, homemade sausage!