The DM-18 is a clamshell manual pizza dough press, perfect for low to medium production volumes and any budget. It is a fast, safe, simple, mess free alternative to hand tossing or sheeting your dough. The DM-18 has upper platen heat with a temperature maximum of 200 degrees Fahrenheit. Heat aids in dough flow, allows dough to be pressed straight from a refrigeration unit and helps keep dough from shrinking back or sticking to the upper platen. The dough press is an easy and affordable way to improve your production time as well as your finished product. A press keeps the air in the press versus sheeting dough where the air is forced out. It creates a product that with a consistent thickness versus hand-tossed where thicknesses can vary. The DM-18 has 18 inch round platens that allow for finished crusts up to 18 inches. The DM-18 is easy to use and requires no skilled labor unlike hand tossing. Set your temperature and press time. Recommended temperature for warm dough is 110 degrees Fahrenheit, and cold dough is 150 degrees Fahrenheit. Recommended time for warm dough is 2 to 4 seconds, and cold dough is 4 to 8 seconds. Set your thickness with the adjustment knob at the back of the press. The weight of the dough ball and the thickness setting will determine the size of the finished press. Place your pre-formed dough ball on the lower platen, pull down the handle until it locks into position, the timer will count down and the alert will sound when set time has elapsed. Release the handle. Remove your crust from the platen and place on screen, disc or pan. The top of the crust on the press becomes the bottom. Now you are ready for makeup and baking. The DM-18 is made in the USA and ships UPS in the continental US.
a look at the DM-18 manual pizza dough press from DoughXpress
Related Products

Related Videos
Avantco EB102 Countertop Range
Learn about the features, advantages, and specifications of the Avantco EB102 countertop range!
Noble Gloves - Overview
This video gives you an overview of what Noble Gloves offers. These versatile, food service-grade gloves can be used to protect hands in almost any situation and come in multiple sizes and styles so you can provide your employees with the perfect fit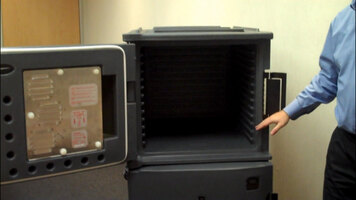 Features of the Cambro Heated Ultra Camcart UPCH1600
Discover the broad applications that make the Cambro Heated CamCart UPCH 1600 the premier selection for caterers, schools, or any large events that require tremendous durability, mobility, and capacity in their food transporter.