Easily create your best breads, desserts, baked goods and more with the Robot Coupe R-30-T. Its multiple settings allow you to chop, blend, puree, mix, and knead, with a pulsating option too. The vertical unit also rotates to easily pour out heavy contents. The locking lid, time settings and power buttons make it a simple unit to prepare your product in bulk.
This incredible product features a 7 horsepower motor and an all stainless steel construction. The Robot Coupe R-30-T is designed for vertical cutting and mixing. With this unit, you can chop, blend, puree, mix, knead, and so much more!
Related Videos
True TFP Food Prep Tables
Learn about all the great features and benefits of True's TFPs food prep tables! From high-quality metal construction to convenient drawers, doors, and cutting boards, find out why these tables are perfect for your establishment!
How to Bake a Cake Using Old Tyme Mills Cake Mix for Sheet Cakes
Watch this video to learn how to use Old Tyme Mills Cake Mix to make perfect sheet cakes!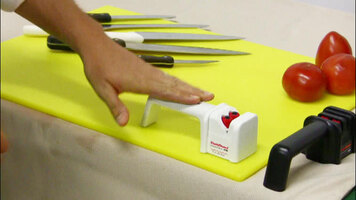 Handheld Knife Sharpener
Not only are dull knives a pain to work with, but they can be dangerous too! Learn how to use our Chef's Choice handheld knife sharpeners for both straight edge and serrated blades so all of your knives remain factory sharp.