Easily create your best breads, desserts, baked goods and more with the Robot Coupe R-30-T. Its multiple settings allow you to chop, blend, puree, mix, and knead, with a pulsating option too. The vertical unit also rotates to easily pour out heavy contents. The locking lid, time settings and power buttons make it a simple unit to prepare your product in bulk.
This incredible product features a 7 horsepower motor and an all stainless steel construction. The Robot Coupe R-30-T is designed for vertical cutting and mixing. With this unit, you can chop, blend, puree, mix, knead, and so much more!
Related Videos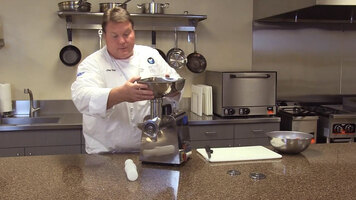 Vollrath Meat Grinders
Grind your most popular meats with ease by using Vollrath's stainless steel meat grinder! Available in two sizes, the number 12 and 22, you'll be sure to find the grinder that meets the needs of your foodservice operation.
NorLake Walk-In Coolers
To learn about all the great features of NorLake walk-in coolers, check out this video! Incredibly easy and quick to install and great for the most demanding environments, NorLake's walk-ins are the perfect fit for your venue! Rotary Food Mills
Instead of dragging out the big food processor, puree fruits and vegetables with one of our rotary food mills! Watch this video and learn how to use a food mill to make nearly anything!