Let's learn about all of the different things the Robot Coupe CMP-300 Combi immersion blender can do, from helping you prepare salsa and drinks to a wide variety of other fantastic foods and sensational snacks! It's incredibly simple to assemble so that you're ready to spring into action in no time. Simply put your ingredient in the bowl and adjust the speed to your liking to create a rich, creamy vegetable dip for carrots, celery, cauliflower and more! You can even replace the blade on the end of the shaft with wire whips, allowing you to beat air into your mixture for a sweetly delicious whipped cream topping for ice cream and other desserts. For a healthier alternative, you could also plunge it deep into a stockpot full of veggies and blend them together for a delicious soup or stew! Also, check out how simple the unit is to disassemble for easy cleaning.
The Robot shows off the CMP-300 Combi's ability to increase speed and efficiency in the kitchen. The applications for this versatile tool are endless! Check out this video to see just a few.
Related Videos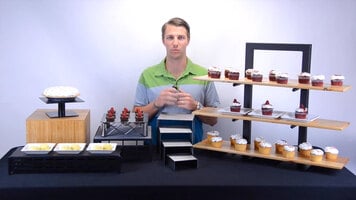 Cal-Mil Risers
Showcase your culinary creations with Cal-Mil's wide variety of risers! With styles and materials ranging from metal, bamboo, wood, plastic, and more, these risers are sure to give your food the display it deserves! Grilling Hamburgers with the Winston Cvap
Imagine serving hot, juicy burgers in fewer than 3 minutes! Using Cvap staging, you can decrease long ticket times by cooking burgers faster and more efficiently.
Crown Verity Patio Heater Comparison
Learn about the amazing features of the Crown Verity Patio Heater. The durability, fuel efficiency, and safety features of this heater make it a great addition to any patio! And, they come in a variety of finishes so you can get the look you want.