(Transcript Unavailable)
When you see two pre-rinse spray valves operating side by side like in this video, it's easy to visualize all the water you're wasting by not using a low flow model! This T&S low flow pre rinse spray valve will increase your water and cash flow.
Related Products

Related Videos
Salvajor Disposer and Control Demo
Salvajor Demonstrates how to use their disposer and control.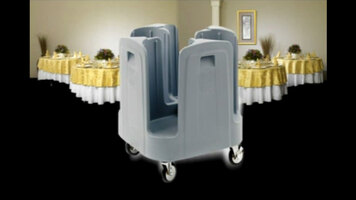 Metro Polymer PCD Poker Dish Dollys
See how the redesigned Metro Polymer PCD Poker Dish Dollys can improve space utilization in your restaurant kitchen and provide easier access to all of your plates! Many of these units are also coated in Microban to cut down on bacteria growth.
Features Of The Metro Side-Load Dish And Tray Carts
Learn about the wide variety of options and features available with Metro Side-Load Dish and Tray Carts! Metro offers adjustability, variety, and protection in all of its carts to allow you to safely handle all of your trays and dishes.