Here is an easy way to save water and save money at the same time. Replace your current spray valves and aerators with T&S low flow models. Watch this 15 second test comparing a T&S low flow spray valve only using 6.5 gallons per minute vs. a standard spray valve. It's easy to see how you can save as much as 77,000 gallons of water per year. That's over $200 in water savings, or $2,300 in water, sewer and heating savings combined. And here is the same test using faucets, the tube on the left is filled by T&S low flow aerator, the tube on the left a standard faucet. We fill these tubes for just 15 seconds and it's easy to see the dramatic difference. What about over a years' time? You could easily waste hundreds of thousands gallons of per year, and that's money down the drain. So save water and save money by using T&S water conserving low flow valves and aerators.
When you see two pre-rinse spray valves operating side by side like in this video, it's easy to visualize all the water you're wasting by not using a low flow model! This T&S low flow pre rinse spray valve will increase your water and cash flow.
Related Products

Related Videos

Lettuce Cutter Blade Replacement
Follow these step-by-step instructions to safely and easily replace the blade on your Nemco Lettuce Cutter.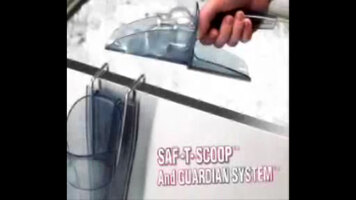 San Jamar Saf-T-Ice Ice Scoop Holder
See how this San Jamar Saf-T Ice scoop and holder solve 2 of the biggest biggest sanitation problems related to ice handling: thumb and knuckle contact with the ice and unsanitary scoop storage!

LED Light Up Shot Glass
Light up the night with these colorful LED light up shot glasses!