All Crown Verity gas grills begin as the base unit. All accessories are optional including the Roll Dome. All MCB models hold 20lbs propane tanks. Tanks mount on the back of the unit. 30" and 36" models hold one 20lbs cylinder. 48" 60" and 72" models hold 2 20lbs cylinders. The front shelf is 9 and 1/2" wide and can be used as a plate slide. End shelves add additional workspace and can go on one or both ends of the unit. The Roll Domes are our most popular option. Roll Domes increase the cooking performance of the unit and allow the unit to be used as an oven. One or two Roll Domes can be used on larger 60" and 72" units. The Pro Griddle Plates allow the unit to perform as a griddle as removable front grease troughs and can fit on one or both sides of larger units. One or two roll domes can be used on larger 60" and 72" models. A rotisserie can be used over the whole unit or half of the unit. A Roll Dome is required when a rotisserie is used. When using a rotisserie for larger food products, we recommend the 60" Roll Dome. The Adjustable Bun Rack fits inside of the Roll Dome and can be used for warming or cooking. Steam pan adaptors allow the unit to be used as a hot food table. Each Steam Pan Adaptors will hold one set of pan, including a water pan, insert pan, and cover. Pans are not included with the steam pan adapters. The side burner is 15,000 BTU and is available on MCB models and built in models. The heavy duty outdoor vinyl cover protects your unit from insects, birds, rain, and other outdoor debris. Gas regulators store conveniently under the unit to prevent them from dragging on the ground during transport. Tanks are easily removed by lifting the tank latch and should always be removed during transport.
Learn about this versatile Crown Verity MCB-60 Outdoor Charbroiler and the variety of accessories offered--such as roll domes, end shelves, and the pro griddle plate--to completely customize it to your needs!
Related Videos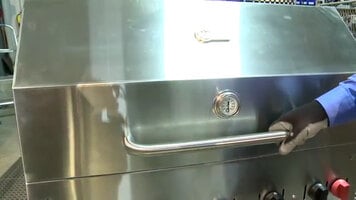 Crown Verity Roll Dome Removal
Whether you're repairing your grill, re-installing your roll dome, or adding one on as an accessory, this video tutorial will make roll dome removal and installation safe, quick, and easy!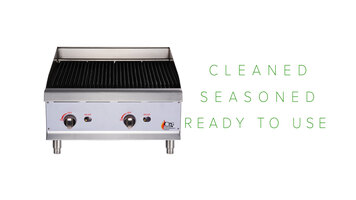 How To Season A Charbroiler
Unpacking, cleaning, and seasoning your charbroiler is easy! Follow these simple steps, and you'll be grilling up savory burgers and fish fillets in no time without the hassle of sticky grates.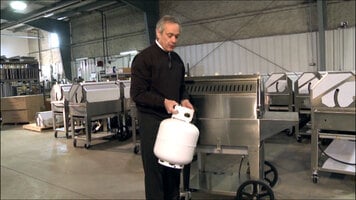 Demonstration on How to Use Your Crown Verity Commercial BBQ Grill
Lighting a grill can be dangerous, so it's important that it's done correctly. Crown Verity's sturdy commercial BBQ grills are great for your restaurant because they are not only easy to light and use, but are also extremely easy to clean.