How you guys doing it's Joe from TailgateJoe.com, we're here again at the Jets game. And I want to take a moment to talk about one of the barbecues and some of the equipment that we use here in putting on this huge event. Tailgate Joe is the largest game day fan club and tailgate party for the New York Jets at all home games and a lot of the away games as well. We get anywhere from 200-300 on average. It's a great time and we're just a bunch of die-hard fans that like to get together, so it's a pretty cool little event. Here we have the Crown Verity MCB72, now this is the biggest barbecue in their lineup. It's a full commercial grill, these are…if you're cooking you know heavy amounts of stuff, need lots of heat, lots of BTUs, lots of cooking space there's nothing better than these. Here is the MCB72, it's 6 feet long, 160,000 BTUs. Like most of the MCB line, from the 48 up it is a dual propane tank system. The great thing about this barbecue is that if you take a look at it you obviously see it's like having two barbecues in one. Each 3-foot section is by itself, each section has its own propane tank system, it's own fuel system so you've got redundancy there in case something were to happen. You're out in the field and you know malfunctions happen you know things break down, at least I have the peace of mind here knowing that I can always get by with one half of it if I need to. The other great thing about this setup here is that having the two separate grills, I can use one side if I want to cook something low and slow or I want to smoke something with the smoker accessories, or if, in the case right now, I'm using this as a type of a holding oven. So what I would do is I've got some food that we cooked a little earlier and it's not ready to go out yet, so I want to keep it nice and warm. I'll throw the burners on, on this side up to medium or high depending on the temperature outside. The burners on this side stay off and like you can see, you just put them right here. This is so big and so deep, that it'll hold full-sized hotel pans. We stacked a few up here and there's lots of capacity. The other great thing about this grill and their whole line is that they're all basically the same just the length is different. Is how easy it is to take apart, clean, configure it for different uses. You can see here the two roll domes, if you come on inside, there are two little pull pins, there's one on there and one on the other side. All you do is pull that pin right out and the whole dome, in one piece, slides right off the track. That will give you a nice open, flat top for cooking if the weather's a little warmer, if you want that type of open air cooking, if you want to be a little bit of a show for people. The other thing is it's great for cleaning the grill, it allows you to get in. You can take a power washer to this whole thing and it's no problem, everything is covered, it's all stainless steel 100% every single part, every single fastener, it's just built to last. The other great thing about these grills is all the attachments they have. You can turn this into a flattop griddle. I don't have griddle piece for this, if someone at Crown Verity is watching this video and wants to send me a few of those that I can review, that'd be awesome. They also have the side burners and I don't have them but you can just hook a side burner right onto here and I'm sure that works out really well. If someone is over there watching, feel free to send one my way for review. We have the side tables, also it come with one for the front, you can get the bun rack, you can get the rotisserie, there are all types of attachments here, this grill works in a variety of uses. We love it here; we couldn't imagine using anything else. We have the MCB72, the MCB48 here and we cook for close to 400 people for 5 hours at a time, all you can eat. It puts out a ton of food and it's a great piece of machinery and we're very happy to be working with Crown Verity and using their products. So, if you ever find yourself at a Jets game, its TailgateJoe.com, definitely come by check us out, it's a good time. Take it easy.
Watch this video review of Crown Verity's MCB72 outdoor grill from Tailgate Joe!
Related Videos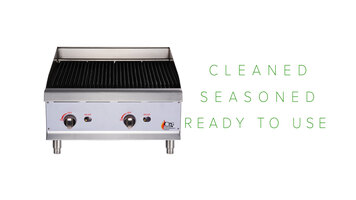 How To Season A Charbroiler
Unpacking, cleaning, and seasoning your charbroiler is easy! Follow these simple steps, and you'll be grilling up savory burgers and fish fillets in no time without the hassle of sticky grates.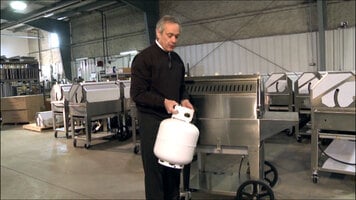 Demonstration on How to Use Your Crown Verity Commercial BBQ Grill
Lighting a grill can be dangerous, so it's important that it's done correctly. Crown Verity's sturdy commercial BBQ grills are great for your restaurant because they are not only easy to light and use, but are also extremely easy to clean.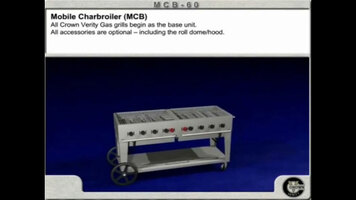 Features of the Crown Verity MCB-60 and MCB-72 Outdoor Charbroiler
Learn about this versatile Crown Verity MCB-60 Outdoor Charbroiler and the variety of accessories offered--such as roll domes, end shelves, and the pro griddle plate--to completely customize it to your needs!