Now clean up on the deep fryer. You want to turn the fryer off. The baskets, those can go in the dishwasher, pot/pan sink, nothing special there. To clean these, you would remove the baskets. Take the fryer head off, and on the smaller units, this lifts up and out, and you would typically take a pot of some sort and a filter (there are several different types of filters). Some people just use something like this—not quite fine enough—put a nice mesh filter in there. Some people use cheesecloth. There's another filter out there…I think it's called Miroil clean, more like a silk almost if you felt it. It's very fine. The more particulate you take out, the longer your grease will last. So, on the smaller units, you take that pot, strain it through here manually. Pick it up and just dump it through. Move this, then take this and dump it back in. You can take the pans there—pot/pan sink, dishwasher, what have you. Obviously yes, you'd like these cool. You still want to strain grease when it's warm. You don't want to let it get cold. It just gets too thick. Especially when you're using solid shortening, you don't want to let it get too cold. Warm grease just strains through a little easier. Now, when you take these wells to the sink and you bring them back, don't assemble the fryer right away. You want to let them dry thoroughly, especially if you're going to be washing down the heads. If you leave any water in there, and you pour your grease back in, next time you fire up your fryer that water's going to spatter and pop and you're going to get a lot of stuff going on. So if you're cleaning these things, let them air dry thoroughly. Overnight's really good. No need to fill them back up, especially if you're using liquid shortening. It doesn't matter. Let me back up a little bit. For this unit how to strain it, obviously we've got the valve. So we pull this forward, lift this up, drain it through. Take this, drain the valve, and strain it through. You would then put water in here, scrub that unit out. Drain the water out and then let it air dry again or wipe it down really well, and then refill that unit.
Want to learn how to clean your Vollrath deep fryer? Watch this video to see just how easy it can be!
Related Videos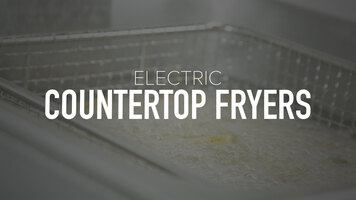 Electric Countertop Fryers
Looking for a compact, affordable solution to increasing the output at your restaurant, food truck, or snack bar? Try an electric countetop fryer!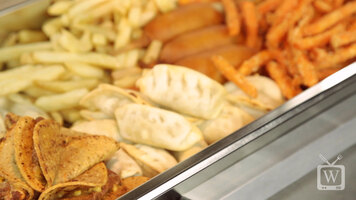 Avantco 2 Bulb Food Warmer
Looking for a way to keep your menu items warm? The Avantco free standing two bulb heat lamp & food warmer is an ideal solution. Equipped with convenient features like an adjustable stand, this heavy-duty aluminum warmer will meet your daily demands.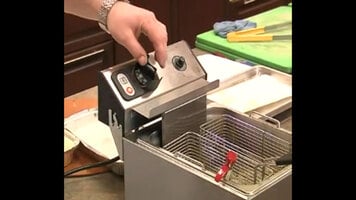 Vollrath Deep Fryer Demonstration
Watch this video to learn about safety features and appropriate applications to consider when purchasing a Vollrath deep fryer!