Badge replacement: the Crown Verity badge is held on with three spring clips on the inside, and for TV we've left two off. To remove the last one there just get yourself a flat screwdriver and pry these clips off. You're new badge will come with the three clips all ready to go. Just install the badge in the three holes, again open the roll dome. From inside start that clip by hand, and do all three. We need to seat those clips and the best tool for that is in my back pocket, it's a nut driver or a socket. Line that up like so and support the badge here with our hand and push on those clips. That's all there is to it, badge installed.
Watch this video and learn how to change the badge on Crown Verity's grills!
Related Videos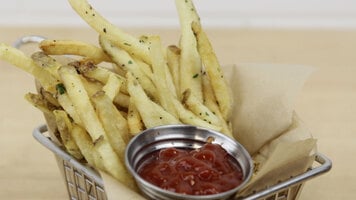 How to Use a French Fry Cutter With a 1/4 inch Blade
Watch this video to learn how to use, clean and maintain your French fry cutter! These step by step visual instructions will be sure to help you keep your French fry cutter with a 1/4 inch blade running like new. Features of the Lifetime 4 Foot Folding Table
Learn how the quality construction and innovative design of this multipurpose Lifetime folding table makes it perfect for any use in your home, office, campground, or any other setting! It is stain resistant, durable, and easy to clean.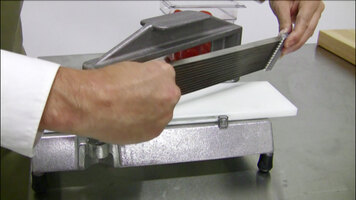 Tomato Slicer Blade Replacement
Need to replace the blade on your tomato slicer? Check out this step-by-step visual demonstration to learn how!