Dry Erase vs. Wet Erase
Great for use on acetate, film or non-porous laminated surfaces, wet erase markers contain water-soluble dyes and can only be removed with a damp tissue or cloth. Wet erase markers use a paste-based ink rather than alcohol based, which makes their markings semi-permanent. Another great feature of wet erase markers is their resistance to heat. Because they won't fade or bubble, these markers are great for illuminated boards or projector lamps. This unmatched versatility allows you to use them on whiteboards, laminated papers, storage totes, and other non-porous surfaces.

Conversely, dry erase markers erase with a dry eraser when used on the proper surfaces – whiteboards, porcelain, melamine, glass, and other non-porous materials.
Provided you have a quality board that withstands water, you can use wet erase and dry erase markers on the same board. This is especially convenient when displaying frequently changing specials, as wet erase marker text serves a longer, more permanent period of time, while the dry erase text can easily be removed and replaced with updated specials.
Liquid Chalk Markers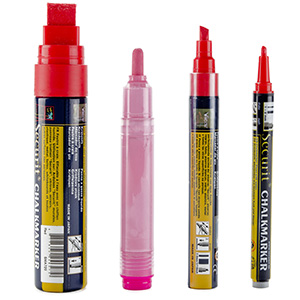 A special type of wet erase markers, liquid chalk markers come in a variety of vibrant colors and are a versatile option for the food service industry. These markers are designed specifically to write on chalkboards, with a chalk-like look when dried, but they are also ideal for glass, mirrors, plastics, metal, and all other non-porous surfaces. Note that not all wet erase markers are liquid chalk markers – be sure to check the manufacturer's packaging for surface compatibility prior to use.
Marker Uses
| | Black Markerboards | Chalkboards | Glass | Laminated Papers | Metal | Mirrors | Plastic | Whiteboards |
| --- | --- | --- | --- | --- | --- | --- | --- | --- |
| Wet Erase | | | | | | | | |
| Liquid Chalk | | | | | | | | |
| Dry Erase | | | | | | | | |
Marker Tip Size
Both wet erase and dry erase markers are available in varying tip sizes, including mini, small, large, and jumbo. Generally, the smaller the tip size, the more detailed the work; the larger the tip size, the larger the surface area covered with each stroke, and therefore the less detailed the work.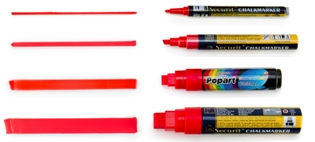 Mini tip liquid chalk erase markers are great for use on small write-on chalk cards for tabletop card holders, whereas jumbo liquid chalk and dry erase markers are most often used on large sign boards and wooden a-frame sign boards.
Bullet Tip vs. Chisel Tip
Bullet Tip
Bullet tip markers ensure a consistent line width every time you write. When just one width is desired, these are the markers to use.
Chisel Tip
Chisel tip markers are great for the ultimate in versatility. With one single marker, you can easily achieve broad, medium, and fine lines.
Special Features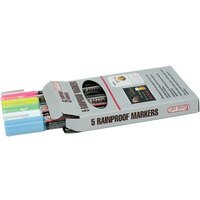 Rainproof
Rainproof markers are great for use on outdoor advertisements, such as sidewalk signs out front of your establishment, or tabletop signs at your outdoor eatery. These markers ensure that your messages won't run or smudge in the rain, yet are easily wiped off with a damp cloth.
Cleaning
It's important to remember that using the wrong type of marker on a whiteboard will leave streaks and residue behind, or "ghosting." In order to avoid those unsightly marks, avoid leaving any writing up for an extended amount of time. This makes cleaning more difficult. If you know that your business will be utilizing the board for a while, try purchasing a melamine foam sponge with water to clean the board. If that doesn't work, a bottle of whiteboard cleaner will do the trick.