Aluminum, aluminized steel, carbon steel, non-stick...with so many muffin pan options to choose from, it's a wonder how anyone has time to bake their petite treats! Thankfully, we created this handy guide to break down the types of muffin pans to make this purchasing decision easier than cake.
Aluminum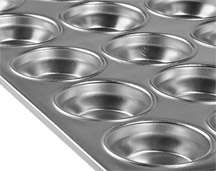 Primary Construction: Aluminum
Benefits:
Lightweight
Very good thermal conductivity
Resistant to many forms of corrosion
3003 Aluminum
Benefits:
Commercially pure aluminum with the addition of manganese
20% stronger than 1100 grade aluminum, an aluminum often found in many residential applications
Excellent corrosion resistance
View Aluminum Pans
Aluminized Steel
Primary Construction: Steel that has been hot-dip coated with aluminum-silicon alloy
Benefits:
The most common material of choice for professional bakers
Unique combination of properties possessed neither by steel nor by aluminum alone
Superior heat transfer, corrosion resistance, and durability
View Aluminized Steel Pans
Cast Aluminum
Primary Construction: Aluminum that has gone through one of the several casting processes Benefits:
Thicker and harder than spun aluminum
View Cast Aluminum Pans
Carbon Steel
Primary Construction: Steel that is not stainless steel; may include alloy steels Benefits:
Harder and stronger than aluminum
Excellent heat transfer
Achieves and maintains both very low and very high temperatures, making these pans a highly effective and versatile cooking piece
View Carbon Steel Pans
Non-Stick Option
A non-stick surface is a surface that reduces the ability of other materials to stick to it. It can be added to aluminum, aluminized steel, carbon steel, or cast aluminum but does not affect the characteristics of the metal itself.
Dark Pans vs. Light Pans
Keep in mind that darker pans get hotter than lighter pans. Make sure you adjust the time and temperature of your recipe accordingly.
Pan Care, Seasoning and Cleaning
Pan Care
Always allow your bakeware to cool before cleaning to prevent warping
Avoid contact with salt solutions, acidic products like tomatoes, disinfectants, or bleaches as these items can corrode bakeware
Avoid direct contact with salt, as it can cause pitting
Use of high temperature silicone utensils for non-stick pans and metal utensils for standard surface pans is recommended
In addition to the above guidelines, when using non-stick pans,
Place liners between pans to avoid scratching non-stick surfaces
Always remove food from the pan before slicing or cutting
---
Pan Seasoning
Prior to baking, lightly spray the inside of your aluminum, aluminized steel, carbon steel, or cast aluminum muffin pans with a small amount of vegetable oil or shortening. Then place the bakeware in the oven for 8 – 10 minutes to "season" the pan. After removal from oven, pour out excess oil/shortening and wipe down the muffin pan with a paper towel until all of the oil/shortening is removed.
Seasoning will prolong the life of the muffin pan. Cleaning with a mild soapy solution after each use will not affect the "seasoning" of the pan. It's okay to repeat this procedure as often as needed without doing damage to the bakeware.
---
Pan Cleaning
When cleaning your muffin pans, it's very important to take great care to avoid damage to the coating and/or pans. Do not put them in the dishwasher and do not soak the pan in water to remove baked on food or stains – your pans will last longer and look better if washed by hand with soapy water. Rinse thoroughly and allow to air dry completely.
Aluminum, Cast Aluminum, and Anodized Aluminum Pans
In addition to handwashing, when cleaning aluminum pans, keep in mind that aluminum is a soft metal that is attacked by detergents with a high alkaline or acidic nature. Use detergents made specifically for aluminum. Through repeated use, aluminum will soften and, if scoured, will thin.
Carbon Steel Pans
In addition to handwashing, do not use soap to clean the seasoned carbon steel pan. Scrub the interior with hot water instead.
Non-Stick Pans
In addition to handwashing, when cleaning non-stick pans,
Use a non-woven scouring pad to remove remaining food from baking and exterior surfaces
Avoid using abrasive cleaners, metal scouring pads, and strong solvents
Wiping the pan with a soft dry cloth is usually all that is required to clean the pan