Whether you're using linen napkins or traditional paper napkins, hidden cleaning fees and replacement costs can eat into your profits.
A switch to linen-like napkins could save you over 30% in laundry fees. Linen-like napkins also eliminate wasted storage spaces full of 2-ply paper napkins and cut down on frequent re-orders.
The Benefits of Linen-Like Napkins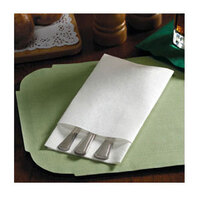 Linen-like napkins are a high quality disposable alternative to both cloth and fancy paper napkins. They are made of thick, soft, and highly absorbent paper that matches the look and feel of actual linen.
Linen-like paper napkins are available in a huge selection of colors and patterns to match any place setting and add an upscale look to your establishment. With both pre-folded and flat pack styles to choose from, the right linen-like napkin for your food service operation is only a click away.
Linen-Like vs. Cloth Napkins
Benefits of Linen-Like Napkins
Available in pre-folded and flat pack
Flat pack can be formed into fancy shapes or rolled around flatware
Thick paper construction is more absorbent than cloth napkins
Apart from the initial investment, reusable cloth napkins also involve additional costs. Not only does your linen service charge per napkin, but there may be other hidden charges that add to the total expense. Here is a simple calculator you can use to compare the annual cost of cloth napkins to a linen-like alternative.
CALCULATOR
Linen-Like vs. 2-Ply Paper Napkins

Benefits of Linen-Like Napkins
Softer, stronger, and more absorbent than 2-ply paper napkins
Reduces waste — environmentally friendly
Less waste means quicker, easier clean up
Saves storage space by decreasing the need for a large inventory of 2-ply paper napkins
On average, each customer uses 3 - 5 commodity paper napkins per sitting. If you use tabletop dispensers or leave stacks of napkins on each table, this number can double or even triple. The majority of these napkins are unused and simply thrown away when bussing tables.
The easiest way to control waste is to control usage. One linen-like dinner napkin is absorbent enough to last an entire meal. Imagine how much money you can save by reducing each customer's napkin consumption down to 1 per meal.
Stop paying for case upon case of 2-ply paper napkins. Take back your storage space. Switch to linen-like napkins and start saving!