Kutol is a leading manufacturer of quality hand soap, hand hygiene products, and soap dispensing systems for virtually any commercial or industrial institution. This brief guide will point out some of the key features of each Kutol dispensing system, and benefits of the various soap types, to help you decide which is best for your needs.
Liquid Hand Soap Systems
Thanks to their innovative refill packaging, Kutol liquid hand soap systems take the time-consuming hassle out of refilling your soap dispensers! A variety of refill sizes are available to meet the needs of any commercial institution.
Easy to use, quick refills
Multiple refill sizes for low to high volume needs
Two dispenser options available
Shop for liquid hand soap systems
---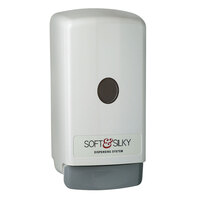 Soft & Silky Bag-In-Box
Versatile - can use any bag-in-box style refill
Contamination-free sealed refill pouches in a number of sizes
Integrated dispensing tubes make refilling simple and worry free - just feed the tube through the dispenser
Shop for Soft & Silky bag-in-box hand soap systems
---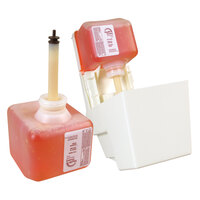 Easy Push
Easy refill cartridge system provides 100% evacuation - no wasted product
Rigid plastic refill cartridges install easily with integrated dispensing tubes
Large view window to identify product type and check refill levels without opening the dispenser
ADA Compliant
Shop for Easy Push Liquid Hand Soap Systems
Industrial / Bulk Soap Systems
For larger, industrial locations like warehouses, factories, and manufacturing plants, Kutol produces a variety of bulk liquid soap systems. Heavy duty grit and pumice based soaps are available for these systems to cut through the most persistent caked on dirt and grime.
Less frequent refills saves time and money
Heavy duty grit and pumice soaps
Three dispenser options available

DuraView
High volume system with easy locking cartridge refills
2000 ml and 4500 ml refills available - both fit the same dispenser
Three dispenser options available
Shop for DuraView hand soap systems
---

PumpGallons
1 gallon jugs with integrated pumps
Grit and pumice soaps, heavy duty hand soaps available
Totally portable - keep one in the work truck and one at the shop
Shop for PumpGallons Hand Soap Systems
---

Bulk Dispensing Systems
Large capacity refill jugs with easy-pour tops for bulk hand soap systems
Can also use refill jugs independently with available screw-on pump
Simple to use
Shop for Bulk Dispensing Systems