What's the Best Glove for My Needs?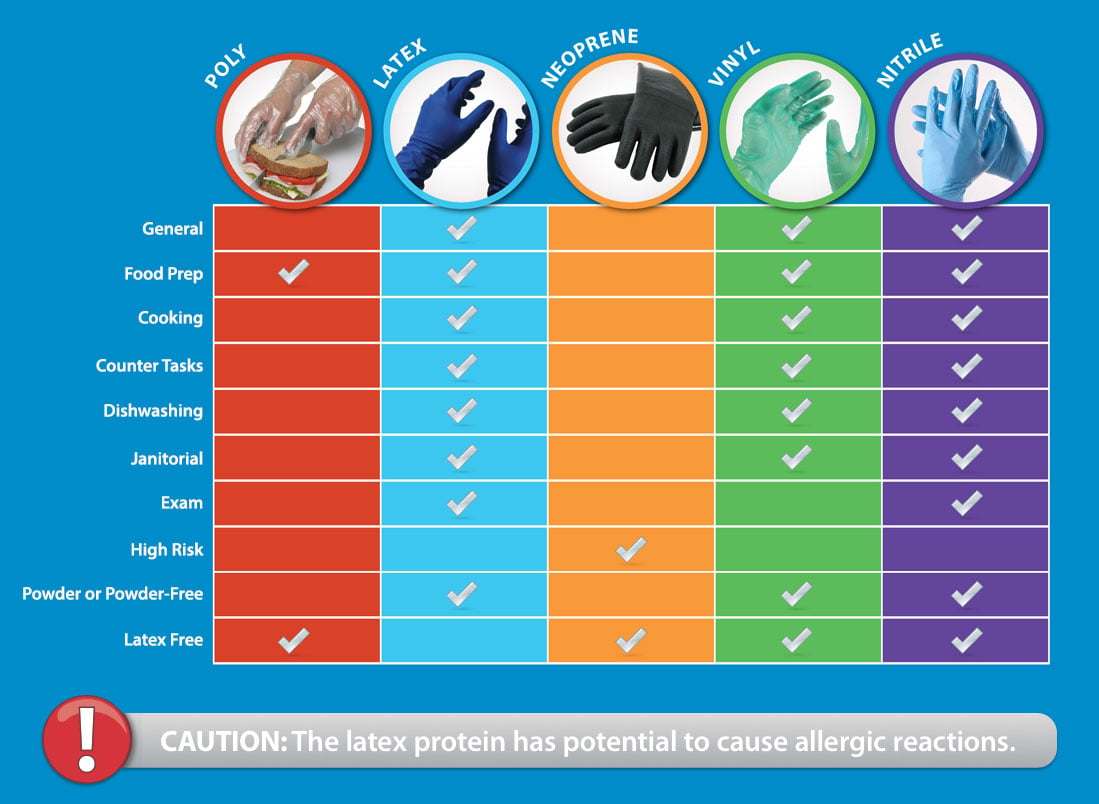 View Expanded Chart
Our Glove Selection
PRODUCT PHOTO
NAME
MATERIAL
THICKNESS
LENGTH
USES
Pot Scrubber Gloves
Green nitrile rubber
25 mil
19"
Perfect for all your dishwashing needs. Made with super tough, flexible, and extremely heat-resistant Nitrile rubber.
Neoprene Flock-Lined Gloves
Black flock-lined neoprene
30 mil
15"
For all wet handling needs, these heat-resistant Neoprene rubber gloves are extremely flexible for a variety of applications.
Neoprene / Latex Gloves
Blue neoprene over yellow latex
28 mil
12"
Very protective, thick and tough gloves. Neoprene rubber upper gives a great heat-resistant quality to gloves.
Nitrile Flock Lined Gloves
Green flock-lined nitrile
15 mil
13"
Designed for use in industrial environments where protection from hazardous substances is required. Resists many aliphatic solvents, oil-based chemicals, fats, and greases.
Platex Gloves
Yellow latex
15 mil
11.5"
Perfect for food processing, janitorial, and maintenance industries. Flock lining increases user comfort, keeps hands dry, and provides easy on and off wear. Super tactile sensitivity, exceptional tensile strength and great tear and puncture resistance.
Total Max Hi-Risk Latex Gloves
Blue latex
15 mil
11"
Perfect for heavy duty and industrial use. Manufactured from natural rubber latex, chlorinated and PH balanced for easy donning, this glove has low modulus comfort for good manual dexterity and extended wear.
Latex "Gladiator" Gloves
White latex
9 mil
9.5"
Provides an exceptional balance of performance, comfort, and durability. All over texture for enhanced wet and dry gripping. Powder free, longer and thicker than typical exam gloves.
Green Vinyl Gloves
Green vinyl
6.5 mil
9"
Extra strong vinyl glove best for all-purpose, industrial, and hardware needs where a thicker glove is required. Designed for extended wear and use.
Nitrile Exam & Safety Gloves
Blue nitrile
4 mil
9"
These general, all-purpose nitrile gloves provide great chemical resistance while also providing outstanding tactile sensitivity. Extremely durable and tear resistant.
Nitrile Low Dermatitis Textured Gloves
Purple nitrile
4 mil
These general, all-purpose, dermatitis-free nitrile gloves are accelerator chemical free with no latex proteins or sulfur added thus reducing the chance for allergic reactions. Ideal for janitorial and food-service tasks.
Disposable Latex Gloves
Powdered
Powder-Free
White latex
4.5 mil
Disposable, ambidextrous, non-sterile gloves designed for a single use for food service.
Disposable Vinyl Gloves
Powdered
Powder-Free
Vinyl
3.5 mil to 6.5 mil
Disposable, ambidextrous, non-sterile, latex-free gloves designed for a single use for food service.
Disposable Poly Gloves
Clear Poly
Light duty, latex free, economical disposable poly gloves are ideal for tasks that require constant glove changing for food service.