WebstaurantStore / Food Service Resources / Blog
Millennials on the Menu: Generation Y Dining Trends
Gen-Y: Your Most Loyal Dining Demographic?
Debt-laden, living paycheck-to-paycheck, and still dwelling in Mom and Dad's basement. Yeah, it's safe to say that the 18-29 year old age constituent known interchangeably as "Generation Y" and the "Millennials" certainly gets a bad rap. Turns out, however, that Gen-Y might just be your most consistent customer base. A recent study noted that 42% of Millennials reportedly visited casual-dining restaurants at least once a month. That's more than Generation X (33%) and Baby Boomers (24%), both of whom earn a higher income than the under-30 crowd.
So what's the catch? To start, Generation Y isn't burdened with mortgages, multiple payments, or children. Previous studies have shown that this age group is more likely to make impulse buys on small splurges for themselves (casual dining, it seems, allows for self-indulgence without breaking the bank). In fact, 87% of Millennials will splurge on a meal, even when money is tight.
They may be broke, aggravatingly hipster, and speak in strange acronyms. But at roughly 50 million strong, Gen-Y is on the rise. Here are three simple marketing tactics that cater to the under-30 crowd:
---
1. Maintain a Website
Internet-centric Millennials will bypass a restaurant simply because they can't look up its hours, address, or Yelp ratings online. Websites like Let's Eat! allow you to create your own site for next to nothing in cost. And as the old adage goes, it takes one to know one. Why not enlist the help of a Gen Y'er to help maintain your web presence? College students and recent grads will work for cheap, are web savvy, and speak the Millennial lingo.
2. Get Social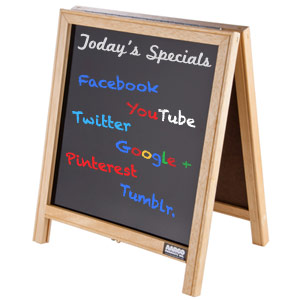 Social Media, that is. A whopping 75% of Millennials are on a social networking site (Gen-X weighs in at 50%, and Boomers at 30%). Create an account with Facebook, Twitter, Pinterest, Instragram, and Foursquare to easily post pics of your culinary creations, announce daily specials, and promote events.
Social Media doesn't just stop at words and images. Did you know a page with a video is 50 times more likely to appear in top Google searches? Create a clip of your chef cooking his or her favorite dish. Assemble a montage of customer testimonials. From humorous to sentimental, a video is a great way to show Millennials a more personal side of your business.
Don't forget to display deals and discounts online. Of all generations, Gen-Y'ers (43%) were the most likely to agree that coupons and discounts influence where they purchase food.
3. Host Events
Weekly events are a two-way street: Millennials are hungry to participate in communal activities, and you're eager to rope in a regular restaurant crowd. Consider hosting trivia, speed dating, sport playoff parties, open mic nights, dart and pool leagues, karaoke… you get the gist! Read more about how to host a successful happy hour in our bar tips article.
---
Other Gen-Y Jargon
Check out some other #trending dining habits among Generation Y, compiled by Trend Hunter:
55% prefer communal tables at restaurants
40% will order something different every time they visit a restaurant
30% eat foods that are certified organic (and 80% want to know more about how food is grown)
They prefer to go grocery shopping in groups
"Custom" is seen as a necessity - not a luxury
40% are in college (check out How Gen Y Eats to view the top trends in campus dining)