WebstaurantStore / Food Service Resources / Blog
Award-Winning Brownie Recipe from our Featured Customer
Barb Schaller, our first Featured Customer Recipe, very graciously and generously agreed to allow the WebstaurantStore to post her award-winning brownie recipe. Barb told me during our interview, that she intends to "take over the world, one brownie at a time". Well, let me tell you that after I brought these brownies to work: Lancaster County, Pennsylvania is now in her grasp! I apologize in advance for your soon to be expanding waistlines! Here you go:
Barb Schaller's Famous Org----- Chocolate Brownies
Recipe By: Barb Schaller, adapted from Cook's Illustrated recipe,
March/April 1994 Serving Size: 24
1 cup unsalted butter (8 oz.)
4 ounces unsweetened baking chocolate
2 cups granulated sugar (15 oz.)
4 eggs
2 teaspoons vanilla extract
1/2 teaspoon almond extract
1 cup chopped nuts, optional (walnuts or pecans)
1 1/3 cups cake flour (6 oz.)
1 teaspoon baking powder
1/2 teaspoon salt
Move oven rack to center and preheat oven to 350° F. Line a 9x13" metal baking pan with parchment paper.
In a microwave oven, on medium-high power, melt butter and chocolate in 2-quart microwave-safe bowl, about 3 minutes. Stir until smooth. Mix in granulated sugar, then beat in eggs, one at a time, with wire whisk.
Mix in vanilla and almond. Stir in nuts. Combine cake flour, baking powder, and salt and fold into chocolate. Spread batter in 9x13" pan lined with baking parchment and bake in preheated oven at 350°F for about 33 minutes. Do not overbake; toothpick may have fudgy crumbs on it, but not wet batter.
Cool pan on wire rack for 15 minutes before removing (if you wish) brownies from pan.
A Note from Barb Schaller: Please, keep the moaning down; it annoys the neighbors. I use the baking parchment paper so the whole can be removed from the pan for easy transport to a lucky recipient. May want to support the bottom with cardboard.First Place, Plain Brownies, 1997 and 2002 Minnesota State Fairs. Adapted from recipe in Cook's Illustrated magazine, March/April 1994. Please note that I do use real chocolate, unsalted butter and cake flour. If you do not, don't complain to me about it. In fact, don't complain to me about it anyway.
-Barb Schaller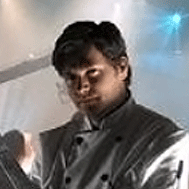 Posted in:
Recipes
|
Bakeries
| By Steven Ziegler