WebstaurantStore / Food Service Resources / Blog
Fight the Flu with Our Soaps (and Soups!)
Shadow or no shadow, the approach of Groundhog Day reminds us that winter's chill will remain for another few months. What will also be sticking around? This season's superbug,
the flu.
As of Friday, the flu was still
prevalent in 49 states
(Maine was the exception) and high in 26 states and New York City.
Luckily, The WEBstaurant Store has the products to ward off germs for the rest of winter (and beyond!) Check out our cleaning wipes and Noble Chemical Disinfectant to knock out germs with a single swipe or spray. Our line of Kutol hand soaps offers alcohol-free formulas to clean hands without harsh, skin-drying effects. We even offer a free EZ foam soap dispenser with the purchase of two cases of Kutol foaming hand soap! Just use the coupon code EZGY (for gray dispenser) or EZBK (for black dispenser).
While we can't prevent the flu, our corporate chef Matt Schuler has shared two soup recipes to help you make it to March. His classic Chicken Noodle Soup recipe is great for someone enduring influenza, while his Chicken Sausage, Garlic, & Kale Soup recipe contains immunity-boosting ingredients. "These recipes are not guaranteed to cure or prevent the flu, but are good for the soul," notes Schuler.
---
Chicken Noodle Soup
Serves 6 to 8 (with leftovers for tomorrow!)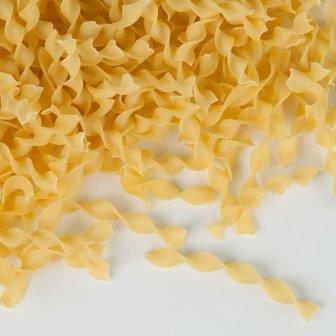 Ingredients:
4 qts. homemade chicken stock or low-sodium chicken broth
1 3/4 lb. cleaned whole chicken
2 cups diced scrubbed carrots
1 cup diced onion
2 cups diced celery
2 Tbsp. minced fresh parsley
1 Tbsp. minced fresh thyme
1/2 pound (8 oz.) medium egg noodles
Directions:
1. In a large pot, combine broth and chicken.
Bring to a boil; reduce heat, cover, and simmer for 40 minutes, or until juices run clear (clear juice indicates that the chicken is fully cooked). Remove chicken from pot and set aside until cool enough to handle. Strain broth.
Note:
Chicken and broth may be prepared to this point a day ahead and refrigerated.
2. Return broth to pot and bring to a boil. Add carrots, onions, and celery. Simmer until vegetables are tender (approx. 20 minutes).
3. Shred meat from chicken, discarding skin and bones. Tear into small pieces. Add chicken meat back into pot along with herbs and noodles. Increase heat to medium-high and continue to cook until noodles are just tender (approx. 6 to 8 minutes). Season to taste with salt and freshly ground pepper.
---
Chicken Sausage, Garlic, & Kale Soup
Serves 6
Ingredients:
1/2 cup wheat berries
12 oz. diced chicken sausage (fully cooked sausage is recommended)
2 Tbsp. olive oil
3.5 oz. shiitake mushrooms, stemmed and thinly sliced (approx. 1 cup when sliced)
10 cloves garlic, peeled and thinly sliced
1/4 cup rice vinegar
4 cups low-sodium vegetable broth
1 bunch (10 oz.) kale, stemmed and coarsely chopped
Directions:
1. Soak wheat berries in large bowl of cold water overnight. 2. Sauté: Heat oil in 2 qt. saucepan over medium heat. Add mushrooms, and season with salt, if desired. Sauté mushrooms 10 minutes, or until beginning to brown. Add sausage, and sauté until brown. Add garlic, and sauté 2 minutes more. Stir in vinegar; simmer until vinegar is almost evaporated, stirring to scrape up browned bits from pan.

3. Add: Drain wheat berries, and add to mushroom mixture with vegetable broth and 1 cup water. Bring to a boil, then reduce heat to medium-low, and simmer 20 minutes. Add kale, and cook 10 to 20 minutes more (or until kale is tender). Season with salt and pepper, if desired.

---

Chef Tips:

Check out Matt Schuler's tips on prepping and storing your winter soups!

Make your own vegetable stock and control the sodium yourself. Freeze it in our standard hot microwaveable containers to keep soup stock on hand all winter!

Want to make a bigger batch and store leftovers? These heavyweight hot microwaveable containers are great for freezing leftovers and can be reheated right in the microwave.

Having trouble slicing that garlic super thin? Try out our new Etched Blade Grater! Its anti-slip grip and corrosion resistant blade will provide years of safe, convenient use!