WebstaurantStore / Food Service Resources / Blog
6 Unique Ice Cream Sandwich Recipes
August 2nd was National Ice Cream Sandwich Day. To celebrate everyone's favorite sandwich dessert, we thought we'd try six new recipes that mix up the traditional chocolate cookie and vanilla ice cream. Then, we had some of our staff members try them to see how they turned out. Here are the results of our experiment!
1. Churro and Coffee Horchata Sandwich
If combining fried dough and ice cream is wrong, I don't want to be right. This sandwich combines a classic carnival treat with our own version of horchata, a sweet milky drink made with ground almonds, sesame seeds, rice, or tigernuts. Our inspiration for churros and horchata came from this recipe from With Love and Cupcakes, and we added coffee concentrate for extra flavor, though you could use espresso powder for less sweetness.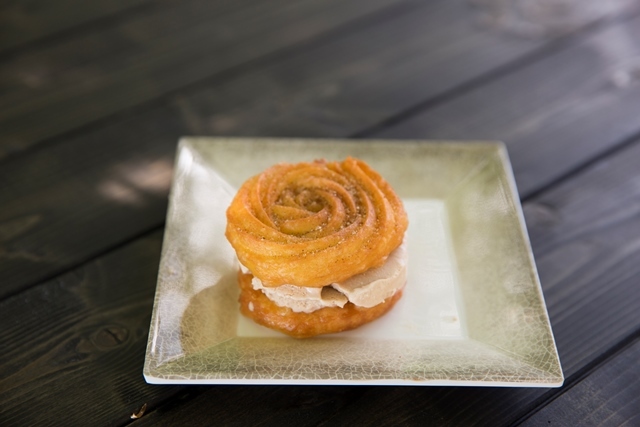 Ingredients
2. Salted Caramel Brownie Sandwich
This rich, decadent sandwich is not for the light of heart. Cool vanilla ice cream is sandwiched between two fudgey brownies and we topped the whole thing with sweet caramel sauce and sea salt. This sandwich could be a whole meal on its own!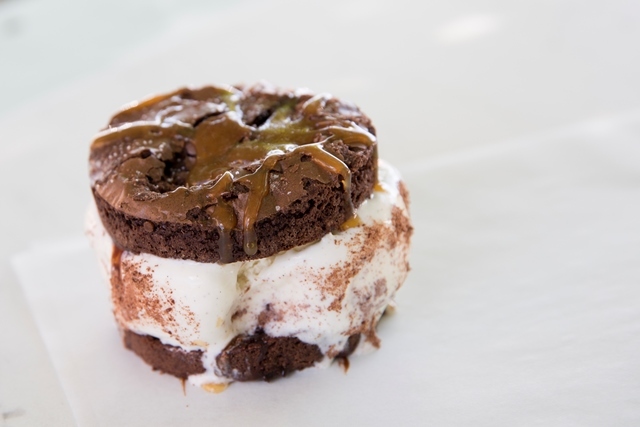 Ingredients
Brownies, cut into circles
Vanilla ice cream
Crushed sea salt
Chocolate shavings for around the edge
3. Cherry Cheesecake Belgian Waffle Sandwich
These fluffy waffle sandwiches are a light treat that's perfect for a summer day. The waffles are subtly flavored with cream cheese, lemon juice, and vanilla in addition to the standard eggs, sugar, and flour. Two types of cherries give this sandwich a sweetness that's perfect for any time of day.
Ingredients
Cheesecake Belgian waffles
Black cherry ice cream
Cherry pie filling
4.
Peanut Butter Chunky Monkey® Sandwich
Who doesn't like peanut butter and bananas? This sandwich combines all the rich, indulgent flavors you love. Peanut butter cookies are a classic favorite that pair wonderfully with the banana, chocolate, and walnut flavors in the ice cream. Chocolate shavings around the edge and a drizzle on top add a richer chocolate flavor.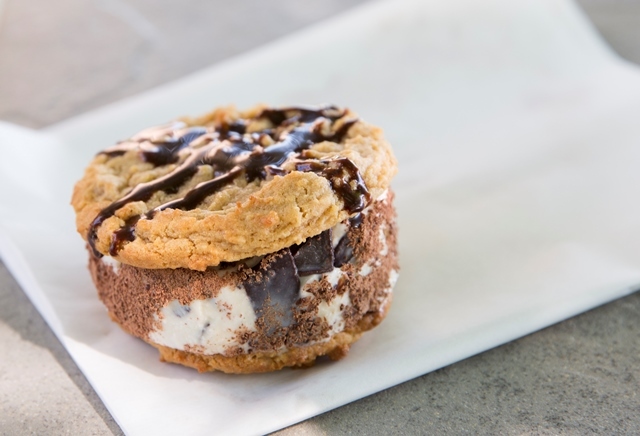 Recipe
Peanut butter cookies
Chunky Monkey® ice cream
Chocolate syrup
Chocolate shavings for around the edge
5. French Toast Sandwich
This sandwich has a subtle flavor that's perfect for late morning brunches or to top off a breakfast-for-dinner menu. To give the French toast a sweeter flavor, we dipped it in brown sugar after battering, giving a more sugary outer texture and flavor than the traditional breakfast food.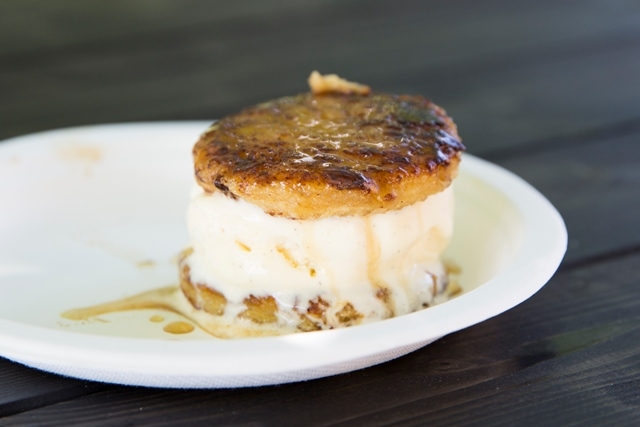 Ingredients
Brown sugar French toast
French vanilla ice cream
Maple syrup
6. Lemon Ice Cream Sandwich
This ice cream sandwich combines all the flavors you never knew you wanted. It has a very strong lemon taste, and the ice cream tastes like a light, sour sorbet. This sandwich has very distinct flavors that are definitely worth a try.
Ingredients
Lemon cookies
Sprig of thyme (optional garnish)
Ice cream sandwiches are a simple and versatile dessert that can be adapted for any kind of eatery. These recipes were some of our favorites, but don't be afraid to use your imagination! No matter what kind of restaurant you have, ice cream sandwiches are sure to be a hit.
Posted in:
Recipes
| By Alyssa Burns