WebstaurantStore / Food Service Resources / Blog
Increase Profits by Adding Creative Dessert Shooters to Your Menu
As more customers opt to skip dessert to save their wallet or waistline, it can be difficult to convince your guests to purchase an after-dinner treat. If you find yourself in this dilemma, consider adding dessert shooters to your menu. Dessert shooters are small portions (5 to 10 bites) of sweet treats served in a shot glass. Depending on your preferences, you can offer dessert shooters as a unique item or a smaller "sampler" version of an existing dessert.
Why Should You Offer Dessert Shooters?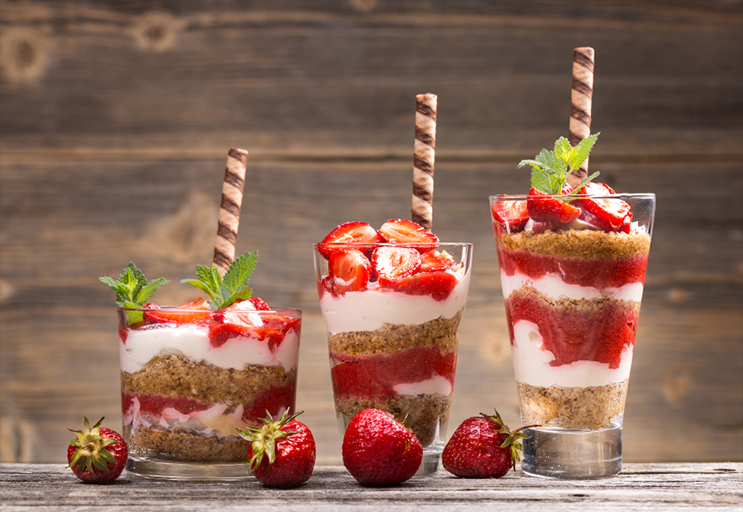 While dessert shooters are usually inexpensive (no more than $5) and may seem inconsequential, the extra revenue they generate for your restaurant will quickly add up. You can sell shooters a la carte or offer them in a sampler of 2 or 3 for a set price. Plus, if your shooters are miniature samples of your larger desserts, customers who try and enjoy a shooter are far more likely to order the full-size version on their next visit.
Recipes
The following recipes provide a variety of delicious options for restaurants or catering companies looking to add dessert shooters to their menu:
Dessert shooters complement finger foods or small appetizers as well, so you might even consider serving them at your buffet or catered event. Ultimately, shooters allow guests to satisfy their sweet tooth and are also great for patrons looking to reduce portion sizes when they eat out.
Ingredients and Supplies
If you are interested in adding dessert shooters to your menu, be sure to check out these products:

Posted in:
Recipes
|
Menu Tips
| By Nora Fulmer