• Healthy kids need healthy food at the Cambro Versa food bar. The Versa food bar is designed to help schools provide meals and snacks quickly and easily. With versatility built in, the Versa food bar can accommodate frequent menu changes and merchandising requirements. The tray rails and sneeze guards lift up and knock down for easy food set up, transport and storage. This stylish, completely portable food bar is fully compliant with 2011 NSF sneeze guard requirements. Using full size or fractional pans, cold fresh pans, salad bowl holders and crocks, your menu can change quickly and easily. The food bar can be used with ice or without ice with the buffet cam chiller. The dual sided buffet cam chiller extends cold temperatures safe holding time for hours. The food bar is part of the Versa food service system. The system also includes the Versa work table, and Versa cart. These components can easily be connected with straight or corner connecters to create a professional, uniform look. The multipurpose work table can be used as a prep table or the ideal place for holding cold beverages. The Versa cart can be used as an equipment stand, or as a mobile cashier stand anywhere on campus. The Cambro Versa food bar, delivers satisfaction.
This video gives you a look at the Cambro Versa Food Bar for schools. This food bar system allows schools to quickly and easily provide food and snacks, and it also accommodates speedy menu changes.
Related Videos Noble Gloves - Introduction
In this video, we give you an introduction to the Noble Gloves collection. With guaranteed quality and incredibly low prices, Noble Gloves is sure to have a selection of styles and sizes to fit the needs of your company. Noble Gloves - Proper Use
In this video, we go over how to use Noble Gloves properly and most effectively; including how to properly remove these gloves. Proper wearing and removal of gloves can prevent cross contamination and keep your employees and customers safe.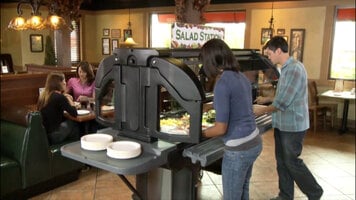 Features of the Cambro Versa Food Bar For Restaurants
Expand your menu and boost your profit margin with the Cambro Versa Food Bar! See how the NSF listed Cambro Versa food bar's professional appearance and tremendous versatility make it great for flexible menus requiring frequent change.