• Healthy kids need healthy food at the Cambro Versa food bar. The Versa food bar is designed to help schools provide meals and snacks quickly and easily. With versatility built in, the Versa food bar can accommodate frequent menu changes and merchandising requirements. The tray rails and sneeze guards lift up and knock down for easy food set up, transport and storage. This stylish, completely portable food bar is fully compliant with 2011 NSF sneeze guard requirements. Using full size or fractional pans, cold fresh pans, salad bowl holders and crocks, your menu can change quickly and easily. The food bar can be used with ice or without ice with the buffet cam chiller. The dual sided buffet cam chiller extends cold temperatures safe holding time for hours. The food bar is part of the Versa food service system. The system also includes the Versa work table, and Versa cart. These components can easily be connected with straight or corner connecters to create a professional, uniform look. The multipurpose work table can be used as a prep table or the ideal place for holding cold beverages. The Versa cart can be used as an equipment stand, or as a mobile cashier stand anywhere on campus. The Cambro Versa food bar, delivers satisfaction.
This video gives you a look at the Cambro Versa Food Bar for schools. This food bar system allows schools to quickly and easily provide food and snacks, and it also accommodates speedy menu changes.
Related Videos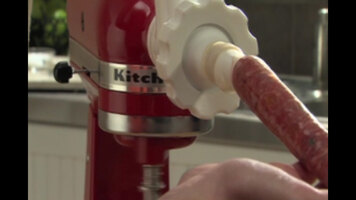 KitchenAid Stand Mixer Sausage Stuffer Attachment
This video gives you a look at the sausage stuffer attachment for KitchenAid stand mixers - a great and easy way to make fresh, tasty, homemade sausage!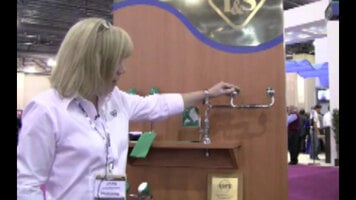 Learn about TS Eye Wash and Face Wash Stations
In this informative video, you'll learn about several different styles of eye wash stations that we carry from T&S Brass. Keep your employees safe by installing the right emergency eye wash station for your business!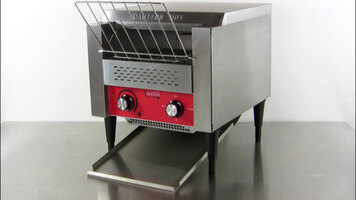 Features Of The Avantco Conveyor Toaster Oven
With its various settings and ease of use, adding this Avantco Conveyer Toaster Oven to your coffee shop or cafeteria will provide your customers with perfectly toasted bread, bagels, and buns every time!