Hi, I'm Maureen Servaas with Servaas Laboratories. We're a third generation family company and the makers of Bar Keepers Friend. Today we're here at an independent laboratory to demonstrate how Bar Keepers Friend works on a stain we've all seen before: spaghetti sauce. I have a spaghetti stain in a stainless steel pan made by Calphalon, who just so happens to recommend Bar Keepers Friend by name. Simply sprinkle Bar Keepers Friend in a wet pan, make a paste, and scrub gently. Bar Keepers Friend has a non-bleach formula. Cleansers with bleach are not recommended for stainless steel. Now rinse. Looks great, and it's easy. Check out barkeepersfriend.com for more ways to use BKF; and remember our motto: Once tried, always used.
Servaas Laboratories demonstrates how to use their all purpose cleaning formula to make cleaning up an easy task. And remember, you should never use a cleaning product that contains bleach on your stainless steel cookware!
Related Products

Related Videos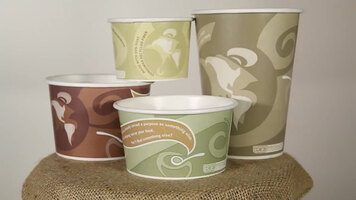 Eco-Products Hot and Cold Food Containers
Check out these Evolution world hot and cold paper food containers from Eco-Products! Made of 24% post-consumer recycled fiber, you'll be making an eco-friendly choice. Available in a variety of sizes, these containers are perfect for food service!
How to Make the Perfect Egg
Chef Thom England from Ivy Tech shows you how to make the perfect egg time after time using the Combi Oven from Hobart.
Robot Coupe CL-55 PusherSeries-D-V2
This video demonstrates the power and versatility of the Robot Coupe CL55 pusher series D-V2! If prepared vegetable are in high demand in your kitchen and you depend on being able to make large quantities quickly, then you need this product.