(Transcript Unavailable)
Servaas Laboratories demonstrates how to use their all purpose cleaning formula to make cleaning up an easy task. And remember, you should never use a cleaning product that contains bleach on your stainless steel cookware!
Related Videos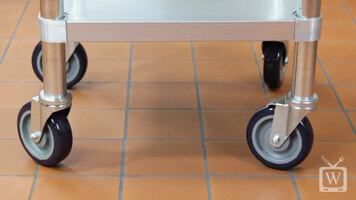 How to Install Casters on Your Work Table
Installing casters on your stainless steel work table is now easier than ever with this informative how-to video. Watch it now!
Garland Induction Technology: Introduction
This video will introduce you to Garland's induction technology. Benefits of this technology include no wasteful releases of heat while cooking, making your kitchen green and efficient. Robot Coupe R602
The incredible Robot Coupe R602 allows you to prepare 2000 plus servings in less than three hours! This video demonstrates just a few of the applications of this machine and its powerful 3 horsepower motor.