Hi, I'm Maureen Servaas with Servaas Laboratories. We're a third generation family company and the makers of Bar Keepers Friend. Today we're here at an independent laboratory to demonstrate how Bar Keepers Friend works on a stain we've all seen before: spaghetti sauce. I have a spaghetti stain in a stainless steel pan made by Calphalon, who just so happens to recommend Bar Keepers Friend by name. Simply sprinkle Bar Keepers Friend in a wet pan, make a paste, and scrub gently. Bar Keepers Friend has a non-bleach formula. Cleansers with bleach are not recommended for stainless steel. Now rinse. Looks great, and it's easy. Check out barkeepersfriend.com for more ways to use BKF; and remember our motto: Once tried, always used.
Servaas Laboratories demonstrates how to use their all purpose cleaning formula to make cleaning up an easy task. And remember, you should never use a cleaning product that contains bleach on your stainless steel cookware!
Related Videos
Hobart FP250 Continuous Feed Food Processor
Learn how to install, operate, clean, maintain, and even troubleshoot your Hobart FP250 continuous feed food processor with this informational video!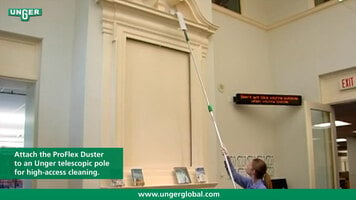 Unger StarDuster Proflex Duster
Cleaning hard-to-reach places is made simple with the Unger StarDuster Proflex Duster. Watch this video to learn how to get started and how to get the most out of your duster! Continuous Feed Food Mill
Increase your output and efficiency without sacrificing quantity by using this manual continuous feed food mill. Here, Steve demonstrates how easy it is to make a perfect tomato paste out of both canned and fresh tomatoes using this food mill.