Changing blades on your tomato slicer is a quick and easy way to make your old tomato slicer cut like it's brand new. Here are some easy instructions. First, remove the thumb screws and the slide stop from the end of your slide board. Then you'll remove the pusher block assembly. You'll see, this just slides right off. Next, remove the blade holder assembly by unscrewing the hex-head bolts on either side of the blade holder casting. Now be careful removing the blade holder assembly so that you don't touch the sharp edges of the blades. Now, take your new blade set assembly, and insert the blades into the casting with the sharp side toward where the pusher assembly normally sits. Make sure the holes at either end of the assembly align with the holes of the blade holder casting. First, insert the two hex-head screws on the right end of the blade holder, nearest the words "caution sharp blades." Fully tighten these two, alternating a quarter turn until they are fully tightened. Then, install the screws on the other side of the casting. Again, tighten each screw a quarter turn, alternating until fully tightened. Finally, reinstall the pusher block assembly by simply sliding it on. Once you've done that, you can move the pusher block through the blade set to make sure it's installed properly. Then you'll reinstall the slide stop with the thumb screws. Now that you've seen how easy it is to change the blades on your tomato slicer, I have one more recommendation: You must have an extra set of blades on hand at all times. You never know what could happen, and if you count on sliced tomatoes, you can really make your life easier by having an extra set of blades. Thanks for watching, and please, if you have any question, feel free to use our live chat button!
Need to replace the blade on your tomato slicer? Check out this step-by-step visual demonstration to learn how!
Related Videos
Features of the Avantco SCLM1 27-inch Megatop Prep Table
This Avantco SCLM1 27" Megatop Prep Table is perfect for preparing all of your sandwiches and salads! Learn about this feature-rich table and how it will provide you with the convenience and durability you need in your busy restaurant kitchen!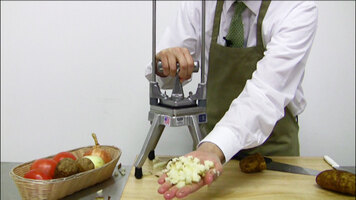 Vegetable Dicers
Dicing vegetables for soups, salads, and your signature dishes has never been easier! Use the Nemco N555000-1 Easy Chopper to save time and labor as you quickly slice and dice onions, tomatoes, potatoes, celery, and more.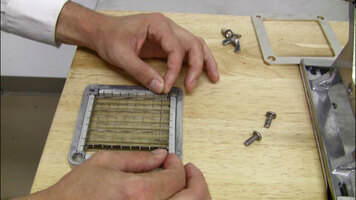 Fry Cutter Blade Replacement
Learn how to replace the blade on your french fry cutter to make your machine work like new! This step-by-step visual demonstration will help you safely and easily replace the blades so you can get back to making hot, fresh French fries in no time.