The TS32, TS5, TS25, and TS50 Mechanical Portion Control Scales from Taylor offer portability, NSF approval, and reliability in a small and inexpensive package. Today I'm going to take a few moments to show you some of the basic features, and the initial setup of these scales. When your Taylor mechanical scale arrives at your door, you're going to want to let it come up to your indoor room temperature. Especially if it is hot or cold outside, and this is because these things are spring operated and springs change their shape with extreme heat or cold. When it is up to room temperature, the first thing you'll do is align your rotating dial so the zero graduation sits right inside this triangular notch in the middle of the dial. Once it's there, you're going to take a weight (I'm just going to use some Regal sea salt) and place it on, let it come to a rest, take it off, and repeat this three times. Now that we've done that, we can look to see if this is precisely at zero. I can see it's just a little bit off, so what I'm going to do is turn the unit around. You can see there is a brass knob there that you can turn back and forth in order to precisely tune your needle to zero. I'm going to do that right there, and there we have it! Now I'd like to show you the tear feature utilizing the rotating dial. The first thing we'll do is put our container on the platform. You can see how the needles moved. I'm going to rotate the dial so zero lines up exactly with the needle. Next thing I'll do is put my product in the container; in this case I have some tomatoes. Now you can see we have an accurate reading of just the tomatoes.
Get portability, NSF approval, and reliability in a small and inexpensive package through the Taylor TS Mechanical Portion Control Scales! This video will walk you through the initial set up of your scale as well as how to use the tare function.
Related Videos How Portion Scales Can Help You Control Portion Sizes
Save money for your business by learning how to control the sizes of the portions you serve! See how seemingly insignificant mistakes in portion size--such as being off by 1/8 of an oz.--can make a huge difference in your yearly profits.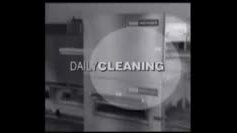 Lincoln Impinger Oven 1100 Series: Daily Cleaning
This video shows you how to clean your 1100 series Lincoln Impinger oven. Learn how to tidy up the exterior and interior of your oven to keep it looking spick-and-span!
Features of the Cambro Camrack Wash and Store System
This Cambro Camrack wash and store system will protect your glassware from airborne contaminants and provide efficient, sanitary storage for all of your glasses! It includes a stack of racks with enclosed outer walls, an enclosed dolly, and a cover.