Detecto's versatile DL series price computing scales with integral label printers are designed for highly customized retail use in delis, supermarkets, produce sections, convenience stores, and grocery store meat sections. With 5,990 PLUs and 2-MBs of memory, the DL series is economical, durable, user-friendly, and incorporates all of the essential features needed for legal trade weighing and label printing. Detecto's DL series networkable price computing scales features a 12.8" wide by 8.9" deep stainless steel platform. Vivid LED displays for both the operator and customer, an integral thermal label printer, DLX50 set-up software CD to customize labels, bar codes, and edit PLUs, and multiple connectivity ports, including USB, Ethernet, RS232 Serial, and cash drawer. It is available in either 30 lb. x 0.01 lb., or 60 lb. x 0.02 lb. capacity, with an optional tower display. The tower display models offer 46 additional quick keys not available on the other models. Bright green, easy-to-read LED display read-outs ensure visible accuracy for both the operator and the customer, providing product and pricing information. The operator view feature 4 LED display windows, and one dot matrix display with upper and lowercase alpha-numeric characters. The customer view provides all LED display windows, and the tower display includes the additional dot matrix, alpha-numeric display. The DL series can complete temporary sales by either weight or count, conduct basic PLU transactions, by either weight or count, or batch print labels for piece count PLUs or prepackaged weight PLUs. The DL series allows up to 5,990 PLUs with up to 80 speed keys for the regular models, and up to 126 speed keys for the tower models. PLUs and shortcut keys may be quickly programmed on the scale, or with the included PC software. Flexible and easy-to-use PC software with drag and drop graphics facilitates simplified exporting and importing of PLUs to and from your PC or multiple scales, full control over creating, viewing, and modifying PLU information, simple PLU assignment to quick keys, and the PLU quick key page can then be printed and used as the quick key overlay for the DL series scale. Easy firmware USB upgrade using USB drive flash memory, with no need to break the NTEP inspection tube. Detecto's DL series prints labels in a wide variety of styles, sizes, and printed information: bar codes, QR codes, safe handling images, ingredients, weights, date formats with month, day, and time, nutritional facts, discounts, logos, and more. Labels have fully customizable layouts and font sizes by use of the PC's user-friendly graphic interface. Custom bit-mapped graphics can be loaded onto the DL series scales for use in label printing. Bar codes can be customized to include specific pieces of information, as well. Over 50 label types are available to use via the included software. Label rolls are available from Detecto in single rolls, or by the case. Label widths between 40 mm and 60 mm, and up to 128 mm long are compatible with the DL series. PLUs, shortcut keys, and other set-up information, including custom labels and bar codes can easily be transferred scale to scale or PC via the USB, RS232, or Ethernet ports on the side of the scale. For more detailed information of the full capabilities of the DL Series Price Computing Scales, please visit www.detecto.com, or call us at (800) 641-2008.
Delis, supermarkets, butcher shops, grocery stores, convenience stores and more can benefit from this high-tech scale series. Create customized labels, conduct PLU transactions, and easily program time saving shortcut keys with the Detecto DL Series Price Computing Scales, technology that will boost the efficiency and convenience for your operators and customers.
Related Videos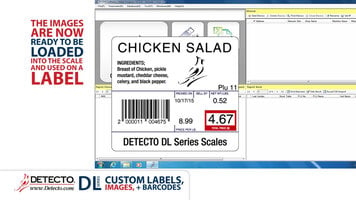 Cardinal Detecto DL Series Scales: Custom Labels
The Detecto DL series scales allow you to customize your own labels and barcodes. Watch this helpful tutorial video for step-by-step instructions on how to use the computer software needed for customization.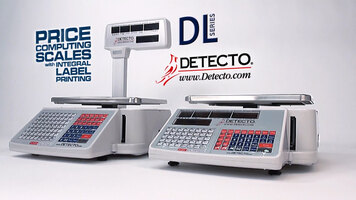 Cardinal Detecto DL Series Scales: Standard and Special Weighting
The Cardinal Detecto DL series scales offer a variety of basic PLU transactions to best suit your business' needs. Learn how to properly perform each of these functions with this informative step-by-step video!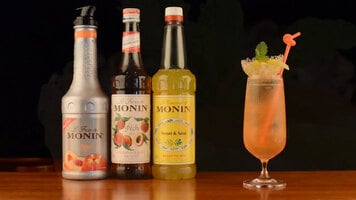 Peach Time by Monin
Serve your guest a delicious peach drink using Monin peach syrup! Watch this video for the complete recipe.