Introducing the Vacu Vin wine saver vacuum pump! Step by step instructions: 1. Insert one of the included wine stoppers into an open wine bottle. 2. Place the pump over the top of the wine stopper, and begin to pump. 3. This pumping action draws air out of the bottle, pushing it out the top of the pump. 4. Release the pump. Your wine bottle is now sealed, locking in flavor and aromas until the next time you need it!
If your business occasionally sells wine by the glass, then this tool is a must-have. See how this easy-to-use Vacu Vin Wine Saver Vacuum Pump seals in the flavor of your wine and gives you more glasses per bottle!
Related Products

Related Videos Omega Vertical Juicer
To see how the Omega Vert juicer makes a more delicious and nutritious juice, check out this video! Its vertical design and slower speed ensures fresher tastier juice that is better for you! TurboChef Encore High Speed Oven
Watch this video to learn all different types of food this TurboChef Encore High Speed Oven can cook! Pizzas and fries are done within minutes, and it's great for baked goods, too. Check this out to see if this oven is right for your venue!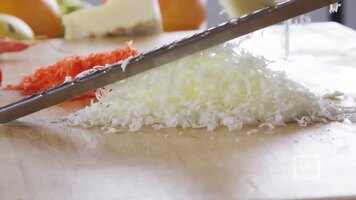 Zester Etched Blade Grater
Looking for a new grater that's durable, dependable, and easy to use? Have a look at this zester etched blade grater in action!