Tear-N-Dry paper loading instructions Open cover. Insert 4 D-alkaline batteries. Insert towel. Manually feed into rollers.
Learn just how easy it is to load paper towels into your San Jamar hands free paper towel dispenser! These hands free dispensers will increase sanitation at any business.
Related Videos
Avantco EG24 Griddle
This video describes the features of the Avantco EG24 countertop griddle, an indispensable piece of cooking equipment! Discover if this griddle is right for you, and also learn some tips for proper cleaning.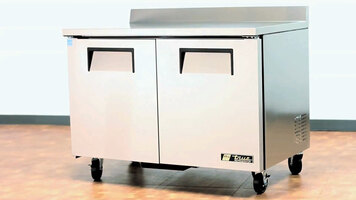 True TUC/TWT-48 Refrigerator
Learn the ins and outs of True's TUC-48 and TWT-48 undercounter and worktop refrigerators!
Avantco PICL1 Refrigerated Pizza Prep Table Review
If you are looking for a durable, feature rich pizza prep table, the Avantco PICL1 Refrigerated Pizza Prep Table will provide extra room for pizza preparation and plenty of room for ingredient storage to make preparing your pizzas a breeze!