Tear-N-Dry paper loading instructions Open cover. Insert 4 D-alkaline batteries. Insert towel. Manually feed into rollers.
Learn just how easy it is to load paper towels into your San Jamar hands free paper towel dispenser! These hands free dispensers will increase sanitation at any business.
Related Videos Slicer Etched Blade Grater
Have a look at the slicer etched blade grater in action.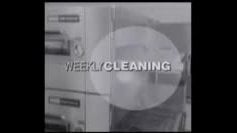 Lincoln Impinger Oven 1600 Series: Weekly Cleaning
The weekly cleaning procedure for 1600 series Impinger ovens from Lincoln is reviewed. Follow these guidelines to keep the exterior and interior clean. Mamas Testimonial for the AXP20
Mama's testimonial for the AXP20