Towel dispensers are frequently overloaded. Resulting in several towels being dispensed by the handful and towels falling on the floor. This is very wasteful and can be remedied with Bobrick's new TowelMate towel dispenser accessory. This is the new TowelMate, and it's one of those simple answers to a persistent problem. The L shaped return on the left side holds towels in place when the door is open. And the rod facilitates dispensing one towel at a time. Installing the new TowelMate is easy, first remove the existing towel guide which is secured with pressure sensitive tape. Then peel the protective backing from the double-sided adhesive strips on the back of the TowelMate. Place the TowelMate on the existing towel tray inside the cabinet with the rod centered on the towel dispensing opening and press into place against the back of the cabinet. No tools required. The towels are easily loaded. The TowelMate rod separates and dispenses one towel at a time as they are pulled through, reducing towel usage and waste, saving 20% or more. As you can see, the custodian is pulling out one towel at a time. No bunching, no multiple towel dispensing. TowelMates are fabricated of 60-70% recycled stainless steel, and the TowelMate accessory fits into installed Bobrick and Gamco dispensers, plus towel dispenser models of other manufacturers.
Sick of wasted hand towels in your restroom? Try Bobrick's TowelMate accessory! TowelMate virtually eliminates bunching, because it only dispenses one towel at a time. This can save you up to 20% in utility costs!
Related Videos
Bobrick LinerMate
Keep liner overhang and misdirected trash from cluttering your waste receptacle by using Bobrick's LinerMate! By simply lifting the LinerMate out of the receptacle, you can change liners quickly and easily.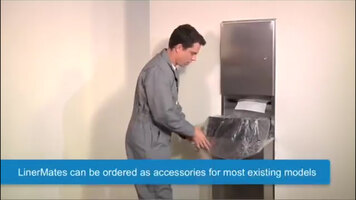 Bobrick Contura Paper Towel Dispenser
The LinerMate and TowelMate accessories for the Bobrick Contura Paper Towel Dispenser are sure to increase sanitation and cost savings in your restroom! The LinerMate eliminates unsightly liner overhang while the TowelMate dispenses single towels.
Backyard Pro Portable Outdoor Gas and Charcoal Grill / Smoker
Check out this video to learn all the benefits of the Backyard Pro portable outdoor gas and charcoal grill! This four-in-one grill provides any grilling option you might need for outdoor use.