New SG-2 Manual Can Opener. Hi I'm David Sebastianelly Vice President of Sales and Marketing at the Edlund Company. Today, I'd like to introduce you to the newest model in our stainless steel can opener series the SG-2. Now the SG-2 is perfect for operators who only have light duty applications but want the full protection that stainless steel can give them. This is the flagship in our G-2 series of can openers. All stainless steel, dishwasher safe, very easy to maintain and clean. Comes with a two year warranty. NSF Listed. It's recommended for about 15-20 cans a day. This model also features Edmund's patented quick change knife and gear system. Let me show you how that works. You see a grenade pin right here. Lift the handle. To get to the knife pull the pin. Take out the housing and loosen the thumb screw here. Edlund recommends 2500 cans per side. When you get to 2500 cans you can just turn the knife around, replace the thumb screw, and you should be good for at least 2500 more cans. Put this back. Line it up. Replace the grenade pin. Now to change the gear. Also, very easy. Put the handle in the down position, and turn it counter clockwise. The gear comes right out. Replace the gear. Inscribed on the gear is which side up it should be replaced. Line it up. Turn it clock wise. And now it's ready to go. Now the Sg-2 comes standard with a stainless steel screw down base but an optional clamp down base is also available. Obviously, the standard model will work on number 10 cans. But outside of the United States there are often much larger and taller cans. For that application, we recommend the SG-2 with a long bar. For all these products have been proudly designed, developed, and manufactured in the USA.
Looking for a long-lasting, efficient-to-use, can opener? Check out the Edlund SG-2 Manual Can opener!
Related Videos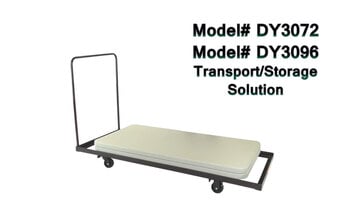 National Public Seating Folding Table Dolly
The National Public Seating folding table dolly features a 1" round handle and a heavy-duty steel channel frame for ultimate stability. Available in various sizes, these dollies are the perfect storage and transport solution for your establishment!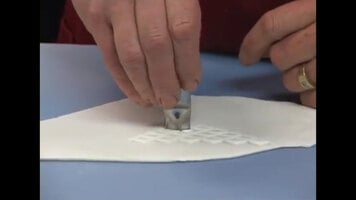 Ateco Crimpers and Sculptors
Looking for delicate tools to decorate your cakes with? Try the Ateco crimpers and sculptors! These tools will allow you to create intricate scalloped and quilted designs that will impress your customers every time.
Core 9.25 oz. Cocktail Glass
This Core 9.25 oz. cocktail glass delivers a classic design with thick, durable construction. Its crystal clear appearance gives the customers at your restaurant or sports bar the full view of every beverage.