Presenting another innovation from San Jamar. Your condiment station can be a place where a quality customer experience begins and ends. There's not need to settle for unsanitary and messy counters, and unattractive and inefficient dispensers. FrontLine pump systems from San Jamar combine versatility and ease of use to ensure sanitary dispensing. The unique soft-touch pump ensures smooth, trouble-free operation and consistent portions to help reduce waste. San Jamar offers sleek, low-profile designs for both in-counter and countertop applications. FrontLine universal systems work with all standard food containers including Cryovac bags. The included box liner also allows for direct pour dispensing. FrontLine pumps handle low to high viscosity condiments including mayonnaise, relish, and tartar sauce. The clear spout and option color coded touch pads make it easy for customers to identify condiments. Component are constructed of stainless steel and high-impact plastic to hold up to heavy duty use. Because you can clean them in place, it's easy to keep FrontLine presentable and sanitary. For more information on FrontLine condiment systems and other smart food and bar management products, visit sanjamar.com.
Tired of a messy, unsanitary condiment station? Watch this short video to learn about the FrontLine pump system from San Jamar and see how it could help keep your condiment counter clean and sanitary.
Related Videos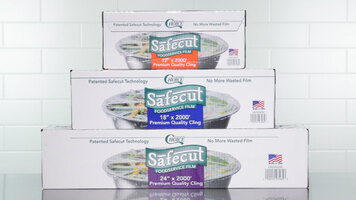 Choice Safecut Foodservice Film
Promote safety in your bakery or restaurant kitchen with this Choice Safecut foodservice film! It features a covered blade, helping to eliminate accidental cuts and injuries. Plus, its film provides a quality cling around your items for superior freshness!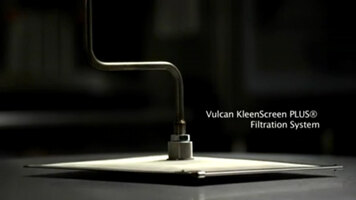 Vulcan KleenScreen Plus
Extend the life of your fryer oil with Vulcan's KleenScreen Plus filtration system! It's made of fabric that doesn't absorb oil, ensuring you aren't throwing out oil every time you change the filter. Save time and money with the KleenScreen Plus!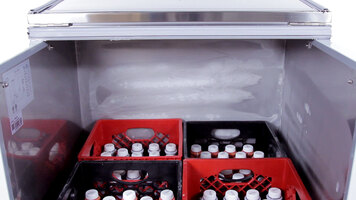 Avantco Milk Coolers
Keep milk fresh and chilled at your school cafeteria with the Avantco MC34, 49, or 58 milk cooler! With convenient hold-down doors, you can be sure that your students and staff have easy access to milk during busy service hours.