Hi, I'm Nicole with JT Eaton. As the bed bug epidemic continues to spread throughout the US, there are several new tools available to help prevent and control infestations. One of these tools is a lockup, premium comfort encasement for your mattress, box spring, and pillow. JT Eaton manufactures the highest quality encasements. Our soft, terry cloth top mattress encasement is waterproof, dust mite- proof, hypoallergenic, and most importantly, bedbug-proof. Protect the investment of a mattress before you have an infestation. Bed bugs cannot penetrate the encasement to reach your mattress. If you do find evidence of bedbug activity, simply remove the encasement and run it through your washer and dryer. Has your mattress been exposed to bedbugs already? Don't throw out your thousand dollar investment. Use our lockup premium comfort encasements; anything missed by a chemical treatment will be locked up, preventing bedbugs from biting you again. Don't forget to lockup your box spring in a premium comfort encasement. Our box spring encasements have double reinforced corners to prevent rips and snagging. Protect your pillows with our velvet pillow encasements. They are waterproof, dust mite-proof, hypoallergenic, and bedbug-proof for a safe, sound sleep. JT Eaton also has tough, stainless steel lockup bedbug barriers to complement the lockup encasement line. These barriers help monitor the progress of a bedbug control program and can be used with any legged furniture. There is also a coupon inside for three dollars off towards a lockup encasement purchase. For more information on bedbugs, including prep sheets, charts, diagrams, other videos, and step-by-step instructions on how to eradicate bedbug infestations, go to www.JTEaton.com/bedbugs.
Watch this video to learn how to fight the rising bedbug epidemic! See how mattress, box spring, and pillow encasements all work to protect your bedding investments. Act proactively and ensure a night of peaceful sleep.
Related Videos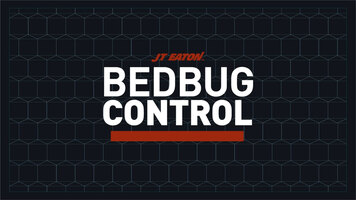 JT Eaton Bed Bug Control
Ensure your hotel rooms and living areas are free and safe from bed bugs by following JT Eaton's bed bug control plan and using their pest control products!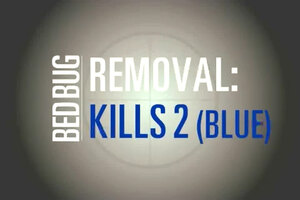 JT Eaton Kills Bed Bugs Blue2
Got bed bugs? Check out this video from JT Eaton and learn how their blue label Kills II spray can help kill an infested room. Learn where and when to spray for optimal effectiveness.
Cardinal Detecto C Series Scales Operation
Count and weigh small parts with this Cardinal counting scale! Boasting innovative features that enable you to count items quickly and accurately, this scale will ensure fast, efficient service at your inventory or packaging facility.