• Today I am going to be making lemon sugar cookies with this quarter size Waring Convection oven. One of my favorite things to use in the kitchen are pan pals, they are silicon baking mats. I used a half size and cut it in half for this quarter sized pan. They're nonstick, they're reusable, so it's a really great, inexpensive thing to have in your kitchen. I'm just going to scoop out my cookie dough, and using a disher like this helps make all the cookies uniform. I'm going to set the temperature to 325 degrees, set it to convection bake, and place my cookies in the oven. Now I'll remove my cookies and let them cool while we get started on the glaze. To make the glaze I'm going to use juice from fresh lemons which is easy to do with our lemon squeezer. Then I'm going to add in about a pound of confection sugar and whisk it together. If your glaze is a little bit thick you can add a few drops of water. When you're finished with your glaze, just add it to your pastry bag. For adding pretty glaze to these cookies, I used the Ateco 8 piece pastry set which is a great way to get started with some basic decorating. And here you have beautiful, freshly baked lemon sugar cookies. For any of the baking items seen in this video, check out the links below.
See how easy it is to bake in your convection oven! In this video, we will show you how to bake lemon sugar cookies in your Waring WCO250 quarter size convection oven as well as how to whip up a delicious glaze from freshly squeezed lemon for on top!
Related Videos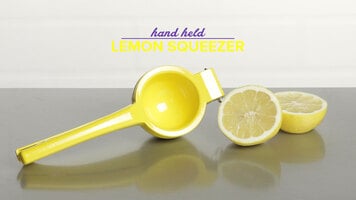 Hand Held Lemon Squeezer
Avoid pulp or seeds in your fresh lemon juice with this quick and efficient hand held lemon squeezer! Perfect for cocktails, breakfast drinks, and more, this squeezer is just what you need to complete your juice making collection.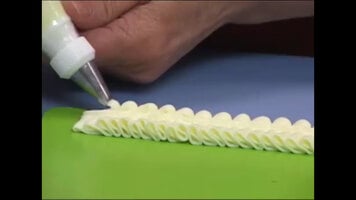 Ateco Piping Bags, Short Spatulas and Pastry Tubes
Looking for just the right tools to decorate your cakes with? Try the Ateco piping bags, short spatulas, and pastry tubes! These tools will help you create weaves, ribbons, scalloped edges, and more that will leave customers impressed every time.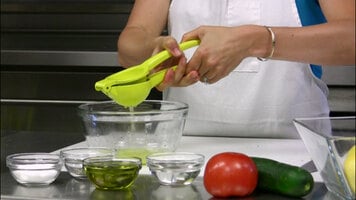 Lemon Squeezers
Making a refreshing, nutritional salad with lemon vinaigrette dressing is easy with all the right tools from WEBstaurantStore.com! Check out this video to see just a few of the products we offer, from lemon squeezers to mixing bowls to displayware.