Hi, I'm Jeff and today I'd like to talk to you about the Fisher ultra-spray valve. Long before the EPA Act of 2005, Fisher has always been the leader in water conservation in spray valves and pre-rinse units. Today the 2949, the Fisher ultra-spray valve, is standard on all Fisher pre-rinses. The ultra-spray is also interchangeable with all brands. The reason why is, is that the thread that screws into the end of the handle is a universal thread. It's a 3/4 14 thread. It fits virtually every pre-rinse out there. You can always tell it's a Fisher ultra-spray valve by its distinctive blue bumper. So let's examine some of the other features of the spray valve. The first thing is, is that only Fisher uses the solid bronze handle and what this does is it allows the plunger to be pushed down all the way to allow full flow. Other spray valves use some kind of a plastic handle and overtime the plastic bends and distorts and the operator ends up having to stick a penny or some duct tape in there to get that plunger to push down all the way. Fisher also incorporates a system where we don't use any O rings up in the nozzle part of it. You can actually take a knife and cut the dish guard bumper all the way off and it would be a no leak spray valve because the actual jet nozzle is pipe threaded and glued right up under the faucet body housing. The nozzle itself is unique to Fisher in that it's a 1.1 gallon per minute nozzle. The water comes out very much like a power washer type spray of a knife edge spray, so at about 10 inches, 12 inches off the dish you have an oval spray pattern and it is test proven that it is the fastest at blowing garbage off the dish. Fisher ultra-spray is interchangeable with all brands and here is a good example. Another major brand right here removes this old broken spray valve and you'll notice that the Fisher spray valve will screw right into a competitors handle. Fully interchangeable with all brands. When selecting a pre-rinse, choose the spray valve that set the standard.
Check out this video on the Ultraspray pre-rinse valve from Fisher! It demonstrates the uses and functions of the ultra-spray valve and what sets it apart from other major brands and competitors.
Related Videos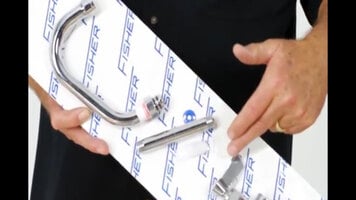 Fisher Interchangeability: Upgrading Your Pre-Rinse Unit
Check out this video to learn how Fisher can help you upgrade your pre-rinses! Fisher offers pre-rinse components, such as spray valves, hoses and springs that are interchangeable, allowing them to adapt with any other brand.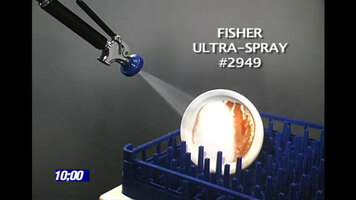 Fisher 2949 Ultra Spray Valve Review
See how much cleaner your dishes will be after just 10 seconds of spraying when you compare three leading competitors with the Fisher 2949 Ultra Spray Valve! This difference is absolutely clear, and it will save you time and money.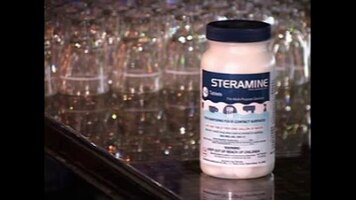 Steramine Tablets
Steramine tablets are safer, easier to use and more cost effective than other sanitizing options! Strong enough to kill micro-organisms such as E. Coli, Staph, and HIV-1, but gentle on employees' hands, they can even be used on food contact surfaces.