Hi, this is Jeff. Today I'd like to talk to you about pre-rinse replacement hoses. At Fisher we make a direct replacement hose for Fisher pre-rinse. We also make a universal hose that has an adapter and a new handle inside the packaging. This universal hose fits brands like T&S Brass, Krowne Component Hardware, Chicago Faucet and other imported lines. When your pre-rinse hose fails it's the perfect time to upgrade to a Fisher hose. Now let me know you why it's actually an upgrade. Inside this stainless steel armor we use a 3 ply aircraft hydraulic hose. It actually has 3 plies of rubber in there reinforced by nylon. Our hoses are designed to last 3 times longer. Now what everyone else uses is a single ply, non-reinforced hose. This is the reason why a Fisher pre-rinse hose lasts 3 times longer. Now I'd like to show you how our universal hose fits on any other brand of pre-rinse. This is a different brand pre-rinse riser pipe; this is where the hose connects. So the first thing were gonna do is we're gonna wrap this fitting right here with some white plumber's Teflon tape and we're gonna screw that adapter in that we saw in the packaging onto the top of the riser. And then, out of that same packaging were gonna pull out our standard Fisher hose, wrap this area here with the white Teflon tape and screw it into the riser. I'll do it backwards just because it's easier. There we go. So it's screwed into the top of the rises. Now, what were gonna do is, not using any Teflon tape because inside the handle are two black washers and were gonna screw the handle onto the thread on the end, tighten it down hand tight, and then if it happened to be a different brand pre-rinse, a different brand spray valve we'll screw right into our handle. Well now would be a really good time to upgrade to the Fisher ultra-spray. And so the Fisher ultra-spray also screws onto it. So as you can see, even regardless of the brand of pre-rinse the Fisher pre-rinse hose fits, every time.
Fisher offers two different types of pre-rinse replacement hoses. One that is made for Fisher hoses only and one that is a universal hose that can adapt with other models! Watch this video to learn more about these two types and how they work!
Related Videos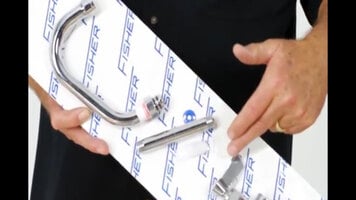 Fisher Interchangeability: Upgrading Your Pre-Rinse Unit
Check out this video to learn how Fisher can help you upgrade your pre-rinses! Fisher offers pre-rinse components, such as spray valves, hoses and springs that are interchangeable, allowing them to adapt with any other brand.
Troubleshooting Faucet Leaks
A leaky faucet can increase your water bill by hundreds of dollars per year. In fact, 1 drip/second equals about 3,000 gallons/year! Luckily, most causes of leaky faucets are easy to diagnose and inexpensive to repair. Watch this video to learn how!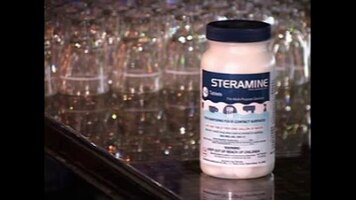 Steramine Tablets
Steramine tablets are safer, easier to use and more cost effective than other sanitizing options! Strong enough to kill micro-organisms such as E. Coli, Staph, and HIV-1, but gentle on employees' hands, they can even be used on food contact surfaces.