Adding drawers to your stainless steel worktables will add storage and utility to your kitchen workstations. In this video we'll show you how to install these Regency drawers, it's quick and easy! It's easiest to work with just the top of the table. So if you bought your table and drawers at the same time, install the drawers before you assemble the table. If you are mounting drawers to an existing table, you can easily remove the tabletop by using an allan wrench to unscrew the legs from the tabletop's gussets and lifting it off--it's best to have a helper when doing this. Set the tabletop upside down on a surface that won't scratch it, and then you can begin assembling the drawer. Today we're using Regency stainless steel drawers, so if you have a different brand, just make sure you double check the manufacturer's instructions. Among the pieces that come in your drawer kit, there are two z-brackets and a bag of nuts and bolts. You'll use these nuts and bolts to attach the z-brackets to the top of the frame, making sure that the top of the bracket goes outward and the bracket extends a bit further back than the rear of the frame. Once you've done this, flip the drawer and align it where you would like to mount it. It's a good idea to try this once with the drawer in the frame, so you can test to make sure the door will clear the lip of the table. If it doesn't, you'll need to shim with some nuts between the hat channel and the z-brackets. One of the things that you'll notice is that this part of the z-bracket has no holes. This is beacuse hat channels can be aligned all sorts of ways depending on the manufacturer of the table. You'll need to drill holes in the brackets and then the hat channels. And then just use self-tapping sheet metal screws to attach the drawer to the table. Now we're almost done. It's just a matter of reattaching the tabletop to the legs, and placing the pan inside the drawer. See that? Adding storage for your utensils isn't too hard! Well, thank you for watching! And if you have any questions, please feel free to use the WEBstaurant Store's live chat button right on our home page.
Learn how to quickly and easily install drawers on your stainless steel work table!
Related Videos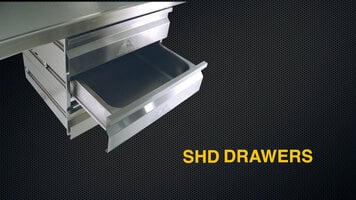 Advance Tabco SHD Drawers: Installation
Do you need more storage space with your Advance Tabco worktable? Watch this quick video to see step-by-step instructions for installing SHD drawers!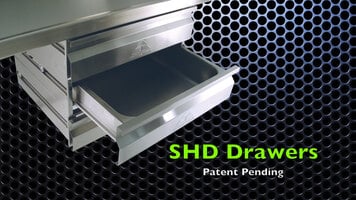 Advance Tabco SHD Drawers: Overview
This informative video provides you with an overview of the design features and benefits of Advance Tabco SHD drawers!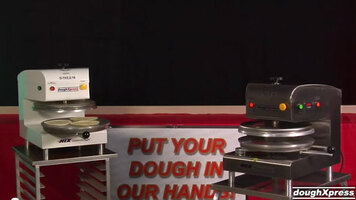 DoughXpress: D-TXE-2-18 Dual Heat Round Electromechanical Tortilla Press 18-inch - 220V
a look at the D-TXE-2-18 dual heat round electromechanical tortilla press from DoughXpress