The KitchenAid fruit and vegetable strainer set includes both the KitchenAid food grinder and fruit and vegetable strainer attachments. Fresh ingredients are effortlessly transformed into delicious creations using the power of the stand mixer. With two attachments in one allowing you to do more. Quickly strain tomatoes for homemade sauce and easily create fresh ground meatballs for a savory dinner. Turn apples into applesauce and vegetables into wholesome all natural baby food. Premium performance, exceptional results, legendary KitchenAid quality.
This video gives you a look at the strainer and grinder attachment for KitchenAid stand mixers. These attachments add extra variety to your kitchen!
Related Videos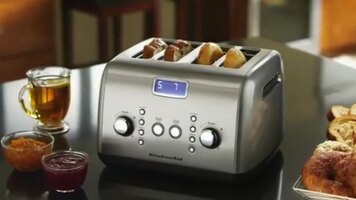 KitchenAid 2-4 Slice Toaster
This video gives you a look at the 2-4 slice toasters from KtichenAid. How to Replace Your High Chair Seatbelt
The seatbelt for the high chair is an additional safety feature to ensure a secure seat for your smallest patrons. Replacing your high chair seatbelts often will keep your high chairs safe and sanitary.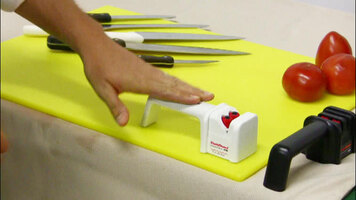 Handheld Knife Sharpener
Not only are dull knives a pain to work with, but they can be dangerous too! Learn how to use our Chef's Choice handheld knife sharpeners for both straight edge and serrated blades so all of your knives remain factory sharp.