The KitchenAid fruit and vegetable strainer set includes both the KitchenAid food grinder and fruit and vegetable strainer attachments. Fresh ingredients are effortlessly transformed into delicious creations using the power of the stand mixer. With two attachments in one allowing you to do more. Quickly strain tomatoes for homemade sauce and easily create fresh ground meatballs for a savory dinner. Turn apples into applesauce and vegetables into wholesome all natural baby food. Premium performance, exceptional results, legendary KitchenAid quality.
This video gives you a look at the strainer and grinder attachment for KitchenAid stand mixers. These attachments add extra variety to your kitchen!
Related Videos How to Use a Vacu Vin Coconut Opener
In just three simple steps, you can use the Vacu Vin coconut opener to open coconut shells and get to the fresh coconut meat inside. Watch this video to find out how!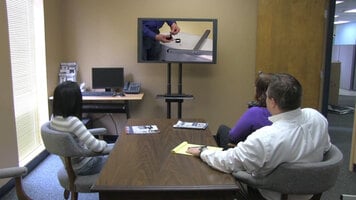 Luxor H. Wilson FP Series Flat Panel Mount
Watch this video to learn about the mobile flat panel mounts offered from Luxor H. Wilson. This video describes the differences in each model and what accessories are included in each.
Edlund KSS-5050 Knife Sanitizing System
Learn how the Edlund KSS-5050 knife sanitaizing system will increase sanitation in your kitchen by allowing you to sanitize your knives in as little as 60 seconds! This sanitizing system is easy to clean as well.